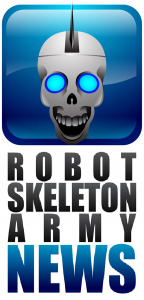 Craig Ferguson's loyal fans are his Robot Skeleton Army. To become a member, follow Craig's Twitter account: @CraigyFerg
We accept reader submissions of news stories, blogs, photos, graphics, links and more via our our Contact Us form.
Follow us on Twitter @RSA_News or become part of our Facebook Community for updates.












Terms of Service
Robot Skeleton Army News provides the latest news about Craig Ferguson and Craig's followers on Twitter, known informally as his Robot Skeleton Army. Updates published at rsanews.com. Follow us on Twitter @RSA_News and on Facebook.
Robot Skeleton Army News has no connection with Craig Ferguson, his production company Green Mountain West, or his management, producers, publishers, unions, representatives or partners, and any information posted here shall not be construed as "official" or confirmed by the aforementioned.
This site and its related posts on Facebook and Twitter are completely non profit. No text, graphics, images, code or material from the rsanews.com website may be copied, reproduced, republished, modified, uploaded, posted, transmitted, or distributed in any way without prior written permission. We claim copyright for original reporting and related text on this site, as well as to the names "Robot Skeleton Army News" "RSA News", "RSANews" and "RSA_News", its logos including the skull, its backgrounds and stylized versions of our names, other graphics and text as displayed on the website and related social media accounts and the related identity/user name(s) and logos on WordPress, blogspot, Yahoo, Ping.fm, Facebook and Twitter. Any use of our logo or name without permission will generate a removal request, followed by reporting to the appropriate web service or further action if necessary. We make no claim of copyright for any other material posted here, including websites to which we link, nor to any photos, graphics or information referenced on the site. We make every effort to properly credit the respective owners/copyright holders of said intellectual property and will immediately honor any request to remove images or links upon proper notification using the "Contact Us" interface on the site. Fair Use Notice: This web site may contain copyrighted material whose use has not been specifically authorized by the copyright owner. This page is operated under the assumption that this non-profit use constitutes a 'fair use' of the copyrighted material as provided for in section 107 of the US Copyright Law.
Due to rules disallowing video cameras at Craig Ferguson's live stand up performances and both video and still cameras at tapings of television or radio programs, we will not post or link to such videos or photos on the website. Still photos are permitted at stand up shows and any other Craig Ferguson-related photos, news tips, news stories, blog posts or graphics are welcome for submission. Any communications or information you transmit to this site is not considered to be confidential or proprietary, with the exception of your name and e-mail address which will remain confidential. We welcome your comments and feedback with respect to this site as well as news tips related to Craig Ferguson and the Twitter followers of @CraigyFerg, described by Craig Ferguson as his "robot skeleton army". Unsolicited ideas or suggestions that you send us including any proposed ideas or other such information, will be treated as non-proprietary and non-confidential, and such comments, ideas or suggestions will become the sole and exclusive property of rsanews.com and may be used by rsanews.com for any purpose whatsoever, commercial or otherwise, without compensation.
While every effort is made to ensure that the information here is accurate, complete and posted with dispatch, we cannot warrant that the information is timely or free from errors or omissions. Corrections will be made promptly. Notices containing dates, times and/or locations of stand up comedy performances, signings, launches, premieres or other personal appearances by Craig Ferguson are offered based on the most current information available to the general public but are not guaranteed and are subject to change without notice. Call ahead – do not book travel without confirming such information. Further, while Craig Ferguson may make "stage door" appearances prior to or following performances to greet fans, sign autographs and/or pose for photographs, such appearances are made at the discretion of his management, are subject to scheduling and are not guaranteed.
rsanews.com is not liable for any direct, indirect, incidental, consequential, or punitive damages arising out of your access to, or use of, this site. Without limiting the foregoing, everything on this site is provided to you "as is" without warranty of any kind either expressed or implied, including but not limited to the implied warranties of merchantability, fitness for a particular purpose, or non infringement. Further, we do not warrant that this site or the server that makes it available are free of computer "viruses". Links provided on this site have not been reviewed, therefore we cannot be responsible for the content, nor do we endorse the materials presented on those sites.
By accessing this site, you agree to the terms and conditions of this notice and agree to hold rsanews.com harmless for any claim arising from your use of the site. These terms and conditions, and the agreement they create, are interpreted in accordance and governed by the laws of the State of California and may be revised without notice.