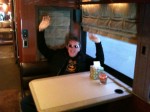 Craig spent a fair amount of the intro and monologue of last night's show talking about his cold/flu.  Hopefully he is feeling a little better tonight.  He enjoyed a successful road trip over the weekend, playing to big crowds in New Hampshire, Rhode Island and Kansas City.   The student run newspaper at the University of Rhode Island reviewed Saturday night's show.
Comments have been pouring in about the RSA's Annette Hanna who passed away on Monday.  We've updated Monday's post with pictures and a link to her blog.  Randy Kagan tweeted about her last night:  i am very sad today. Annette was our roller angel. She was there from the begining. Breaks my Fn heart.  Rest in peace Ventilatorchik. Craig and I love her forever. Keep rollin to God. As you may have spotted in the comments, her life partner Jim is encouraging donations in Annette's name to the Lollipop Theater Network, to honor her memory.
Geoff Petersen tweeted earlier today:  How about that Lauren Graham last night? What a peach! And to think she was here the day Mr F named me…
They're not on the official guest list for tonight but Mythbusters Jamie Hyneman and Adam Savage were in the studio today.  Adam tweeted this earlier today:  Lunch with @CraigyFerg and @nerdist just before. Then @CraigyFerg later! And Craig tweeted:  New @mythbusters start airing tomorrow on @discovery. You win basic cable company. I'll pay And tonight, Adam added:  Watch @CraigyFerg tonight! Jamie and I did the cold open! Lipsynch madness!! And not only will there be a musical beginning, Chris Hardwick (@Nerdist) is on the show.  Craig let us know what's happening:  I think @nerdist may drop by the show 2nite for emails & tweets. Now would be the time to ask those tough Dungeons & Dragons questions. So look out, skellies… it'll be a big night!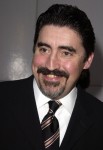 Along with Jamie, Adam and Chris on tonight's Late Late Show, Craig welcomes actor Alfred Molina and comedian Cory Kahaney.  On Wednesday, actress Debra Winger visits the studio along with actor Adhir Kalyan and musician Julie Gribble.
© 2010 – 2011, RSANews. All rights reserved.