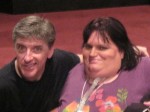 We are sorry to pass along some sad news. We have been informed that a loyal RSA member, Annette Hanna (@VentilatorChik), has passed away. She was a reader and contributor to the RSA News and was a tremendous fan of Craig Ferguson and the Late Late Show. Despite suffering from paralysis and needing a ventilator to breathe, she would travel to see Craig perform live on stage or attend a book signing, met him on more than one occasion and had planned to attend last night's show in Kansas City. We're told that she passed away in her sleep this morning, three weeks after a car accident that had thrown her from her chair.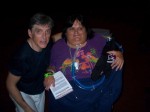 She was a tenacious fighter who had battled spinal problems throughout her life and yet was scheduled to begin a PhD program at her local University this fall. We can all learn from her example and she will be missed. Randy Kagan tweeted about her:  i am very sad today. Annette was our roller angel. She was there from the begining. Breaks my Fn heart.  Rest in peace Ventilatorchik. Craig and I love her forever. Keep rollin to God. Thank you to the RSA's @Fanny57, who let us know that arrangements are being handled by Meredith Funeral Home in Carbondale, IL. She asked that no formal service be held and in lieu of flowers, her life partner Jim is encouraging support for 0ne of Annette's favorite charities, the Lollipop Theater Network, which she praised many times for their work bringing films to children in hospitals, since she spent many long months there several times in her life.  We encourage you to make a donation in her name if you choose. If you have memories of Annette that you'd like to share with the RSA, please include them in the comments section below. #RIPAnnette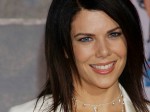 Monday's guests on the Late Late Show are actress Lauren Graham and singer Roseanne Cash.
© 2010 – 2011, RSANews. All rights reserved.