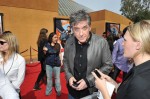 The animated feature film How To Train Your Dragon has been nominated for 15 Annie Awards… the animation industry's highest honors.  HTTYD recieved more noms than any other film in 2010, including Best Animated Feature and Writing in a Feature Prouction.  Check out the complete list.  Although Craig is not up for an indiviual award this time, his castmates Jay Baruchel and Gerard Butler are both nominated for Voice Acting in a Feature Production.  The Annie Awards will be presented February 5th at UCLA's Royce Hall in Los Angeles.
Craig tweeted about Tuesday's show:  Thank goodness @carrieffisher was on the show tonight. I have always wanted a kangaroo scrotum keychain. #sorrykangeroos#inyourpants Sounds like a great reason to watch the show!
Bob Saget is keeping up the naughtiness, even in his tweet:  That was really fun last night @CraigyFerg And so was your show. http://youtu.be/jgVYWUjUazI
Late Late Show guest Michael Sheen may have been noticing the Twitter traffic, wondering why he didn't get a "Team Secretariat" t-shirt.  So he tweeted to Craig:  @CraigyFerg Where's MY f***** Team Secretariat t-shirt?!?? Craig replied:  @michaelsheen we are waiting on the delivery of the size for the larger penised gent. Nothing we have in stock would fit you. #urwelcome Now there's a nice compliment for Michael.
A consumer blog is reporting that Audible.com is offering new members 14 days of free service and a credit for the download of one free audiobook. We checked the Audible.com website and didn't see that specific offer but they do have what amounts to a "half-price" sale on the first three months of a new membership along with one credit for a free audiobook.  Perhaps you might enjoy the Grammy-nominated American On Purpose?
The industry website mediabistro.com's TV News blog talks about Katie Couric's appearance on the Late Late Show.
The RSA's @bgrhubarb spotted Craig's backstage interview for TVGuide Channel.
The RSA's @lolathellama and @MaggieBirks had their tweets read on the show Monday night.  Could yours be next?  Tweet Craig directly @CraigyFerg with your name and town to be considered.
We've heard that a Secretariat-themed sketch may be on tonight's show… could it be Secretariat's Hollywood Park race a couple of weeks ago?  We'll have to watch and see.  The folks behind the just-release Disney film tweeted:  Tune in to The Late Late Show with @CraigyFerg tonight on CBS to catch a Secretariat-themed sketch!
Our Australian readers may want to check out a special program of highlights of the past 20 years of Shark Week on the US-based Discovery Channel, mentioned in the Herald-Sun.
December 7th is a day that lives in reverie for many Craig fans, thanks to the final segement of the December 7, 2009 episode of the Late Late Show, which has come to be known as the "OMFG ending".  If you haven't seen it, or just want to relive it one more time, here it is, thanks to the RSA's general @Malinky2Stoatir.  You don't even have to be Canadian to like it.
Video courtesy: TVsCraigFerguson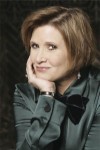 Surprise, surprise… Bob Saget appeared on Monday's show to dance with Craig.  Tuesday on the Late Late Show, Craig welcomes actress Carrie Fisher and author Dennis Lehane.  Wednesday, it's actor Russel Brand and journalist Richard Wolffe.
© 2010 – 2011, RSANews. All rights reserved.