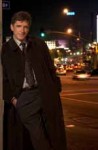 Craig Ferguson was on the radio early this morning in Milwaukee.  In case you weren't within earshot, the station was kind enough to post the interview on its website.  Craig talks about his time on the shores of Lake Oprah and takes an either-or type quiz that will have you laughing.
Late Late Show announcer Shadoe Stevens presented a remarkable project over the weekend that was years in the making.  The Los Angles Times reports on a classic Hollywood film, set in a new way.
Late Late Show producer Michael Naidus tweeted today:  Cynics, please avoid the following link: http://bit.ly/dpE9rI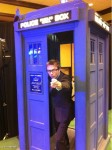 The @nerdist Chris Hardwick attended a Doctor Who convention in Los Angeles over the weekend and is planning to bring back some video for the Late Late Show in the coming days.  While he was there, he was sure to get an essential souvenir photo:  To Whovians, this would be considered "The Money Shot". Thanks, #Gally!!! http://say.ly/RSQ9i6 Chris has more convention pictures on his Twitter timeline.  By the way, Chris will be podcasting from the South by Southwest festival in Austin, Texas March 12-19, according to the Huffington Post.
We had almost forgotten it, but the RSA's @Fergufool found another great piece of Late Late Show lore:  The Apocalypse Now opening from August of 2008:
Video courtesy: Fergufool

Monday on the Late Late Show, actress Sarah Rue and journalist Wolf Blitzer are Craig's guests. Craig tweeted Monday evening: Thanks @wolfblitzercnn for a very informative chat on the show tonight. I'm less in the dark but more scared. Tuesday, Craig welcomes back two familiar faces; filmmaker/actor John Waters and actress Malin Akerman.
© 2011, RSANews. All rights reserved.