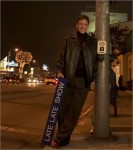 In our Saturday post, we included a clip from French talk show host Jaques "Arthur" Essbag, showing some behind-the-scenes video from his visit to Craig and the Late Late Show.  The clip comes from his show and is of course entirely in French.  But thanks to the RSA's @toin9898, we now have a translation of what was said.  She posted the transcript on Twitlonger for your enjoyment.
One of the RSA's most loyal New Zealanders is @robtreacher, who recently wrote a blog post explaining how Craig is not the typical talk show host and why more people should watch him.
The New York Times opens its attempt to explain the public fascination with Charlie Sheen with Craig's choice to steer away from jokes about the situation.
Comedienne Paula Poundstone will be on the show Monday night.  Here is a short clip from a recent appearance:
Video courtesy: ADayInTheLife56

It's another week of all-new episodes of the Late Late Show, beginning Monday with actor Aaron Eckhart and comedienne Paula Poundstone.  Tuesday, it's actor Topher Grace and actress Catherine Deneuve.  On Wednesday, country singer and now film actor Trace Adkins returns to the show, along with actor Windell Middlebrooks.  Actress/comedienne Wanda Sykes and actor Kevin McKidd will be Craig's guests.  And on Friday, Craig welcomes actress Amanda Peet and comedian Phil Hanley.
© 2011, RSANews. All rights reserved.