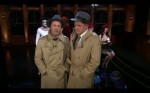 Now that the dust has settled from the Craig Ferguson vs. Jaques "Arthur" Essbag discussion, the New York Times takes a deeper look at the phenomenon of comedy imitators and the tool of the internet to discover them.
The website Broadway World took note of Friday's Late Late Show.
Geoff Petersen joked today:  Feel sorry for the MetroDome lid caving in this morning. After the other night's @craigyferg, i kinda know the feeling. Wink wink.
Josh Robert Thompson, the voice of Geoff Petersen tweeted:  There is no greater torture than being stuck in "reply all" Hell on Facebook. It's hard to argue with that.
This is the final week of taping in 2010 for episodes of the Late Late Show at CBS Television City.  The entire crew will be taking the following two weeks off for the holidays.  However, they have been stashing away interviews, sketches and monologues so there will still be fresh, new shows through December 23rd.  The show will not air on Christmas Eve and we're expecting a visit from the re-run fairy December 27-31 before new episodes resume on January 3rd.  As a reminder, this might be a great week to send in your email or Twitter questions to Craig because they'll be taping a bunch of tweet-mail segments.
As for this week, it's another week of all-new episodes starting Monday with actor Tom Arnold, actress/comedienne Alison Becker and the team from the CBS Early Show: Erica Hill, Chris Wragge, Jeff Glor and Marysol Castro.  On Tuesday, Craig welcomes actress Kirsten Dunst and comedian Greg Proops.  Wednesday, it's former celebrity husband/singer turned TV personality Nick Lachey and magician Jamy Ian Swiss who last appeared on "Magic Week" a few months ago.  Thursday's scheduled guests are actor/producer Seth Green, actress Lena Dunham and music by Ruth Gerson.  Finally, get ready to laugh on Friday when Craig talks with actor/comedian Billy Connolly, and comedienne Maria Bamford.
© 2010 – 2011, RSANews. All rights reserved.