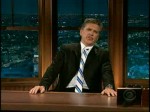 You have to hand it to our fearless leader.  In one of the great "zig when you zag" maneuvers of all time, Craig showed us that a spirit of cooperation can do wonders, even with the French.  Rather that sending a team of CBS lawyers to challenge comedian Arthur's clear re-creation of his late night show (at which point Arthur would have probably surrendered… he is French, after all), Craig, LLS Producer Michael Naidus and Executive Producer Peter Lassally adopted a live-and-let-live attitude and invited Craig's rival to be a guest on his show.  Arthur described his show as an homage to the Late Late Show and evidence of his respect and admiration for what Craig and Company have built.  With an opening segment, tweets and emails and an Emmy-worthy closing homage to Casablanca, Craig and Arthur were able to bury the hatchet in a classy way.  As many robot skeletons have commented here and elsewhere, the hollowed out volcano got pretty worked up about the whole thing, including your editors here who covered the story as it developed.  But should we have expected anything less from Craig, who is a master of the comedic art of feigning outrage over nothing in particular?  In the end, his mock outrage was the most funny way to handle it, and last night's invitation was the most creative way to resolve it.
Among the media covering Craig's surprise show were ABC News (with a great explanation of what happened), the New York Times, TVSquad.com, Fancast.com, Mediaite.com and NewMoviesList.com.
What will happen next?  Will Arthur continue to pay homage to Craig?  Could the rivalry be stretched out into a longer-running gag?  Craig seemed to leave the door open by running the words, "The End… or the beginning?" on the screen to end Monday's show.  The result?  A show that was brilliant all around and as we said last night… epic.  Kudos to Craig and the Late Late Show team for finding a great way to deal with a crazy situation!
Craig's opening act, Randy Kagan is gearing up for the final performance of this year's stand up comedy tour on Friday:  Indio Friday night. That's where the Indio Girls are from. I love those dudes. Tickets still appear to be available for the show at the Fantasy Springs Resort Casino.
Josh Robert Thompson, the voice of Geoff Petersen, sent a fun tweet:  I play 5 characters in this cool short film. See if you can spot which ones: http://tinyurl.com/3yzyfqj
A number of celebrities will be temporarily removing themselves from Twitter and Facebook on December 1st as part of a fundraising campaign for World Aids Day.  RyanSecrest.com has details.
The lovely Stephen Fry will be a guest on the Graham Norton Show on BBC America Saturday:  This Saturday: @BetteMidler, @StephenFry & @MrDavidHaye guest on The Graham Norton Show http://bit.ly/dM3GoU 10pm on BBC America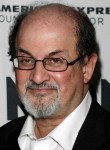 On Tuesday's Late Late Show, Craig chats with author Salman Rushdie and actor Dj Qualls.   Will we get to see Secretariat's race at Hollywood Park?  We'll have to wait and see.  On Wednesday, the website in Los Angeles says it's talk show host Regis Philbin and comedienne Wendy Liebman.  Comedian Greg Proops and actress/singer Nellie McKay will be rescheduled.  At least we think so.
© 2010 – 2011, RSANews. All rights reserved.