Craig Ferguson was among the attendees at an awards ceremony held at the Beverly Hilton Hotel on Friday night. The "Living Legends of Aviation" event honors people of remarkable accomplishment in aviation including: entrepreneurs, innovators, industry leaders, record breakers, astronauts, pilots who have become celebrities and celebrities who have become pilots (remind you of anyone?). The Legends meet yearly to recognize and honor individuals that have made significant contributions in aviation. This year's honoree was M. Laurent Beaudoin, Chairman of the Board of the Canadian aircraft maker Bombardier and the award was presented by celebrity and pilot John Travolta.
When Craig hits Denver for seven stand up comedy performances in March, he'll have some appreciative crowds.  Checking the website, the RSA's @bgrhubarb and @Colleen_Byrne noticed that six of the seven shows at the Comedy Works are sold out but a few tickets remain for the 10:30pm performance on Thursday, March 17.  Get 'em while you can!  Craig will also be performing at the WinStar World Casino in Thackerville, Oklahoma near the Texas border on Saturday, February 5th.  Tickets still remain for that show.
The voice of Geoff Petersen, Josh Robert Thompson tweeted:  Schizo fun this week! Recorded new voices for "American Dad" crew & uploaded fresh vocal data into @geofftherobot's pants. Balls. #rsa
Saturday, January 22nd is Saint Vincent's Feast Day and Answer Your Cat's Question Day.  If the question is "Meow?" the answer is clearly, "Meow".  Sunday, January 23rd is National Pie Die (we'll have a few slices of caramel apple, please) and National Handwriting Day.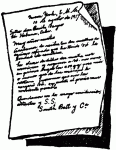 If you're under age 25, "handwriting" was once taught as a subject in school and people with beautiful "penmanship" were admired for their skill.  People often wrote handwritten "letters" (sort of papery blogs or emails) and sent them to each other in envelopes via a government institution known as the Postal Service and paid for their delivery with little lickable stickers known as "stamps".  It would often take two to three days to receive a letter from your letter carrier but you were rewarded by being able to hold it in your hand and read the words actually written down by hand by a friend or favorite relative, perhaps with a "pen" or "pencil".  It seems so long ago.
© 2011, RSANews. All rights reserved.