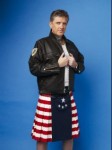 Craig and the Late Late Show team are on summer vacation, so their tweets have been few and far between.  But as they get back into the swing of things, we'll keep you up to date.  As you saw yesterday, Craig was on a sailboat near Santa Monica.  LLS producer Michael Naidus traveled a little farther from home, as evidenced in his tweet:  Buenos Aires is chilly; the people here are not. And the steaks are as great as advertised. That sounds like a good time.
We reached 800 Twitter followers overnight.  Thank you to everyone who follows us and spreads the word to other RSA members.  Craig has more than 313,000 followers, so we'd like 1/313th of that… only a couple hundred to go.
Back in 1991, the inimitable Stephen Fry hosted a nationally televised program in the UK to raise money for AIDS awareness and prevention.  In a sketch, he invited Rowan Atkinson, Hugh Laurie, Emma Freud and Craig to talk about safe sex (sort of).  This event, by Craig's own admission, was several months before he got sober. Although the subject matter is a tiny bit risque, it is all done in good fun and we hope you'll enjoy.  Thanks to the RSA's @CozyHobo for sending us the link.
Video courtesy: londonfan1972

Thank you to the roboskellies who have been helping us test some live chat interfaces here on the site.  We're testing a few different options to see which ones work the best, as a way to invite more people to spend time here on the site.  We can't monitor a chat room 24/7, so at this point it will be open only from time to time.  We'll send out a note on Twitter when we're open for business.  So far, we've tried the Meebo chat room and phpFreeChat, both of which seemed to work well.  It has been suggested that we try Skype but that would require any user to sign up for a Skype account.  A better alternative may be TinyChat, which allows users to sign in with Twitter, Facebook or MySpace.  We have set up an account there but are have a bear of a time getting it to embed on our website.  WordPress sometimes stumbles with JavaScript, so we're not sure how to fix it.  Anyone with suggestions, please tweet us up and let us know, or send a message using the form on the right-hand column.  Thank you in advance for your help.
It's the first of two weeks of "encore presentations" (reruns) of the Late Late Show on CBS beginning tomorrow.  Most of this week's episodes are from February of 2010.  On Monday, see Craig's interview of actress Helena Bonham Carter from February 17th.  On Tuesday, it's the February 24th show featuring actor Don Cheadle and writer Jeannette Walls.  They suddenly lurch forward in time to just this past week, for the golf-delayed August 12th episode with actress Emma Thompson and comedian Carlos Alazraqui.  Then it's back to March 1st on Thursday, with actress Lauren Graham and Big Bang Theory actor Simon Helberg.  And on Friday, it's the February 26th show with director Quentin Tarantino and music by Mumford and Sons.
© 2010 – 2011, RSANews. All rights reserved.