STAND UP DATE RESCHEDULED: Craig's assistant Rebecca Tucker tells us Craig's live stand up performance in Thackerville, Oklahoma has been rescheduled.  She tweeted on Friday:  Due to weather, Craig's show at Winstar Casino in Thackerville has been rescheduled for February 12th. We hope everyone in Oklahoma and Texas stays safe during the bad weather.
Tickets are still available for the show. If you're planning a last-minute trip, Thackerville is just a 90 minute drive from the Dallas-Fort Worth airport. Craig heads back to Los Angeles after the show for the Grammy awards ceremony the following night.  Next on the list of live shows are eight appearances in Denver, March 16-19.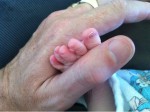 The Twitterverse has been buzzing with baby news ever since the Ferguson's announcement Wednesday of the birth of their new son, Liam James Ferguson.  Craig's late night competitor Jimmy Fallon tweeted:  Congrats to @craigyferg on your new baby boy!!! Craig is off for a few days, although this week's episodes are all new, thanks to the magic of television.  Craig tweeted Thursday afternoon:  Thanks for all your kind tweets. I am currently rocking a poopy little dude on my lap. Then I'll go home & see the baby. #newkidoldjokes
Update: Craig tweeted a baby picture… and probably the only one we'll see for a while: http://yfrog.com/hs16hmej Whilst practicing yoga I noticed my left hand has become enormous. #nomorebabyphotossodontask
Craig reached another milestone this week, topping a half million followers on Twitter.  That ranks him 516th among all users of Twitter.  By comparison, RSA_News ranks 214,747th.  The RSA's @MadDogStephen suggests trying to make the hashtag #halfmillionroboskellies trend.
Craig will be Conan O'Brien's guest on TBS on Tuesday, February 8th.
While our fearless leader was surfing the internet, he came across a fun video by Scottish comedian Danny Bhoy, offering a tongue-in-cheek travelogue:  The delightful Danny Bhoy explains the Old Country perfectly.

Video courtesy: dannybhoyofficial

Craig's assistant Rebecca Tucker tweeted:  Did anyone else see on Craig on Cupcake Wars last night? Apparently it was.  An episode of the show was taped with the contests vying to serve stars at the Grammy nominations concert, which Craig co-hosted.  If you missed it, don't worry.  The RSA's @SexyCraigFerg checked out the show's website, which tells us the episode will re-air Sunday, February 6th at 11pm ET/PT, again three hours later on Monday, February 7th at 2am ET/PT and once more on Saturday, February 19th at 4pm ET/PT.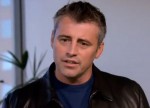 Thursday on the Late Late Show, "How you doin'?"  Actor Matt LeBlanc joins Craig, along with technology writer David Pogue. On Friday, Craig welcomes comedian/actor Matt Lucas.  Comedian Kurt Metzger was on the list for Wednesday but will be rescheduled.
Some additional improvements have come to the site this week, including the feedburner RSS service, which will allow you to more easily subscribe to the blog through your preferred reader (using the RSS link on the left side of the page) or a daily email of the blog after it is posted (using the sign up box in the right-hand column).  There is now a guest list page (just updated) and an up-to-date live appearance page reachable through the top menu.  We've also moved the "Contact Us" form to its own page (link at the bottom of the page) and added feeds of our tweets, Craig's tweets and a stream of tweets related to Craig, the show and the RSA to the bottom of the page.  As always, we appreciate your feedback on how well these things work for you.
Psst: We've also added a box near the bottom of the right-hand column that makes it easy to jump back to the previous post. We hope it comes in handy if you miss a day or two and want to catch up. Check it out: —>
© 2011, RSANews. All rights reserved.