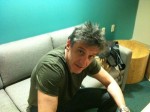 The Doctor Who special being planned for the Late Late Show on November 16th just keeps getting better. Along with the newest actor tapped to play the good doctor, Matt Smith, Craig has invited the @Nerdist, Chris Hardwick to take part in the geek fest. And today, Craig tweeted another treat: Confirmed Dalek for Dr Who special on Tues 16. For those who don't know Daleks are bitter grumpy aliens. Remind you of anyone? We're wondering if the stage crew is building a Tardis just for fun. Mark it on your calendars and get ready to geek out.
Update: Chris Hardwick wants to know what Doctor Who t-shirt he should wear on Tuesday's show… either one already out there or a newly-designed one.  Here is his tweet with the link:  Doctor Who shirt contest! I will wear the winning Who-themed shirt on @CraigyFerg's show Tuesday! http://afx.cc/whoshirt #WhosOnFergs
Want your tweet read on television by Craig himself? Remember to tweet your question directly to @CraigyFerg. Does it work? Ask the RSA's @annabug17, @bgrhubarb, @normaapril and @003lili all had their questions read on last Friday's show alone. The RSA's @HMSFox thinks that four roboskelly tweets in one night is a record and she may be right. Craig really does read real questions from real viewers!
A reviewer at San Diego State University's student newspaper enjoyed Craig's show last week.
If you're around Chicago Friday or Saturday, you can catch Randy Kagan live on stage in St. Charles.
In the early days of Craig's run on the Late Late Show, CBS gave us a behind-the-scenes peek at the show. This particular day included a taping with actress Julia Louis-Dreyfus.
Video courtesy: HeidiDeidiDei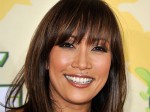 On Friday's Late Late Show, Craig chats with Dancing With The Stars judge Carrie Ann Inaba and actor Billy Gardell. Some early schedules had listed Ewan McGregor for tonight. We'll let you know when he is rescheduled.
We are aware of an issue for Safari/iPhone/iPad users who are seeing a Disqus popup ad covering over the blog. We are working with Disqus to resolve the problem.  In the meantime, we have temporarily disabled Disqus and have resorted to a generic system.  We hope to have it fixed Monday. Thank you for your patience.
© 2010 – 2011, RSANews. All rights reserved.