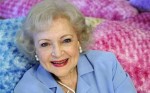 Late Late Show regular Betty White has won the Screen Actor's Guild Award for Outstanding Female Actor in a Comedy Series for her role on Hot In Cleveland.  She was greeted with a standing ovation by the assembled crowd Sunday evening.  Meanwhile, Betty's latest television movie with Jennifer Love Hewitt The Lost Valentine was playing on CBS, so she's keeping busy at 89.  Go Betty!
Back in 2008, Ohio's Columbus Dispatch ran a nice article about Craig.  It's interesting how peaceful the world late night television was then, with Conan O'Brien poised to take over the Tonight Show.
In 2007, Craig took a moment to talk about the race for the White House, the space program and Larry King.  Do we have a picture of Kenny Rogers?
Video courtesy: CBS

Although Craig and the LLS crew are out of the studio this week, roboskellies will get to see five all-new episodes beginning Monday with Craig's guest, TV show host Rachel Ray.  On Tuesday, it's a special show in honor of Black History Month with philosopher/author Dr. Cornel West and a performance by funk legend George Clinton. Then on Wednesday, Craig welcomes back Golden Globe winner Jim Parsons from The Big Bang Theory and comedian Kurt Metzger.  Actor Matt LeBlanc and technology writer David Pogue are Craig's guests on Thursday.  Finally on Friday, Craig chats with comedian/actor Matt Lucas.
© 2011, RSANews. All rights reserved.