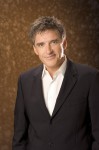 New live performance date:  Craig Ferguson will be performing live at Caesar's Windsor, in Ontario (just across the bridge from Detroit) on April 23rd.  Tickets go on sale at noon on February 5th.
New York Magazine was impressed by Craig and Adam Goldberg's attempt at conducting a "real" TV talk show interview Thursday night.  The interview was funny but had an odd moment punctuated by a commercial break where Adam described a recent home invasion.  The website Adam set up to find the identity of his 3am kitchen visitor is up and running here.  Thanks to the resourceful @bgrhubarb for the link.
On February 1st, Craig will host a special Late Late Show in honor of Black History Month.  Craig's guests will be professor, philosopher and author Dr. Cornel West and legendary funk musician George Clinton, a member of the Rock and Roll Hall of Fame.  CBS offers this preview to whet your appetite.
Our friends at CBS tell us that during the opening of the advance taping, Craig said, "Dr. Cornel West wrote and I quote, 'Black people have never had the luxury to believe in the innocence of America .  Although we have experienced the worst of America , we still believe that the best of America can emerge.  Now, how can I as an American, not want the best of America to emerge?'" He continued, "What we will have tonight, I hope, is an honest discussion with an eminent and respected black American; an academic, a very clever gentleman, maybe the smartest person we have ever booked.  Which, I have to say, intimidates me a little bit." Following the interview segments with Dr. West, George Clinton will perform "One Nation Under A Groove" and then will join Dr. West and Craig for the close of the show.  Don't miss it!

CBS's Late Late Show publicist Katie Barker has been doing double-takes:  Wow I have gotten so used to The Late Late Show's Secretariat that I pictured our horse when I saw a "new on DVD" article inc the film. Pony power.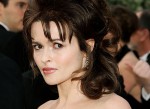 Friday's Late Late Show features actress Helena Bonham Carter and a performance by longtime country music band Larry Gatlin and the Gatlin Brothers.
Craig and Company will be out of the Late Late Show studio at CBS Television City January 31st-February 4th, but thanks to the magic of television, we'll see all-new episodes next week. We'll post the updated guest list as usual in our Monday (or late Sunday night "in your region") post.
© 2011, RSANews. All rights reserved.