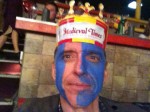 Television producer Hart Hanson, upon seeing Craig's new Twitter avatar, remarked:  I do believe that @craigyferg should appear in all sword-and-horse operas. To which Craig replied:  I agree. Where's my tights? Where's my whip? Craig also tweeted: http://yfrog.com/jypfgej This is really happening @ Hollywood Pk racetrack in LA on Friday. *proud* We'll let you decide for yourself who'd win that race.
There's still no sign of the unaired Doctor Who musical number that had been planned for Tuesday night.  #LeakTheClip
We're just a short time away from Craig's Nashville shows on Saturday night.  His assistant, Rebecca Tucker is getting ready:  I think packing three pairs of cowboy boots for Nashville is overkill. But I'm bringing them all anyway.
Don't forget if you're going to be in Nashville this weekend, you can see the RSA's "other" robot skeleton before the first show or after the second, thanks to @tzankoff.  The seating charts for both shows are being compiled by @HMSFox.  Tweetups are being arranged by @Colleen_Byrne and @NancyInTampa.  And don't forget about us… if you have pictures, stories, blogs or anything else (except videos… those are a no-no), please let us know and we'd be happy to share them with the rest of the RSA.  Just tweet us @RSA_News.
The RSA's @love_loud_music and @normaapril had their questions read on the show Wednesday night.  College is a good thing and we're guessing the guest list for the royal wedding will be very long indeed!  Keep those questions coming.  Send them directly to @CraigyFerg and maybe your question will be asked on the air sometime soon.
Geoff Petersen may be having issues with the Dalek:  Oh my, Daleks are so ruuudde. This one needs to screen the CBS harrassment video. Do the math.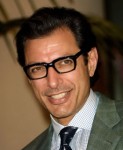 Thursday night on the Late Late Show, actor Jeff Goldblum (bumped from Tuesday night's show) and author Dennis Lehane are now the listed guests.  We're told actor Mark Ruffalo will be rescheduled next Tuesday, and Dr. Lisa Masterson (bumped from Wednesday night) will appear next Monday.  On Friday (barring any unforseen bumping), Craig will talk with actress/comedienne Amy Sedaris and from the Discovery Channel show Mythbusters, Adam Savage and Jamie Hyneman.  The Mythbusters official Twitter account tweeted:   Jamie & @donttrythis [Adam] + @CraigyFerg (Friday) = Awesome
© 2010 – 2011, RSANews. All rights reserved.