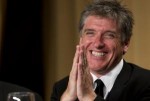 Craig Ferguson's autobiography American On Purpose is still selling well, more than a year after its release.  It's ranked #14 by Amazon.com in its category, Biographies & Memoirs/Arts & Literature/Television Performers (#88 among all Entertainer biographies).  The audio edition is also selling in advance of next Sunday's Grammy Awards, for which Craig has been nominated in the spoken word category.  Meanwhile, Craig's novel Between the Bridge and the River is listed as #84 in the Entertainment/Humor/Self-Help & Psychology category.  It's great to hear that Craig's words are reaching so many people!
TVSquad.com liked Craig's conversation with Matt LeBlanc Thursday about Rocky Mountain oysters:
Video courtesy: TVSquad.com

A blogger for NorthJersey.com recommends Craig's autobiography, American On Purpose.
A columnist for 411mania.com spends just sentence on Craig's conversation Tuesday with Dr. Cornel West but it's a good sentence.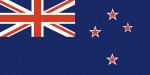 Saturday, February 5th is Constitution Day in Mexico and Weatherpersons Day.  Meteorologists have had a wild couple of weeks recently. Sunday, February 6th is the birth date of President Ronald Reagan, Babe Ruth and Bob Marley.  Having those three people in a room would have been quite interesting.  And it's a great day for New Zealand because it's Waitangi Day, which marks the signing of the document which founded of the country.  Say hello to one of the RSA's Kiki ambassadors, @robtreacher to celebrate!
© 2011, RSANews. All rights reserved.