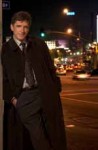 Craig and company remain on vacation through next week but we have taken a sneak peek at some of the guests being planned for the return of new shows in late August and early September.  Some of the names on the list include 80's TV heartthrob Don Johnson, talkshow host Jerry Springer, Inside the Actors Studio host James Lipton, actress Anne Heche, actor John Larroquette, actor Chris Kattaan, Oprah's friend and daytime show host Dr. Oz, actress Kristen Bell and fashion expert Tim Gunn (whispered: Tim Gunn).
Perhaps lost amid all the turmoil surrounding Emma Thompson's comments about the Isle of Wight was the other news she mentioned to Craig; that she's been asked to write a Peter Rabbit story to commemorate the 110th anniversary of the original tales.  TheBookseller.com took note.
Last fall, Craig made appearances around the country to promote his autobiography, American on Purpose.  At one of those stops, he read the preface to the book and talked about some of his experiences.  Thanks to @Fanny57 for sending us the link.  Our apologies in advance for the commercial… it's embedded in the video clip.
Video courtesy: ForaTV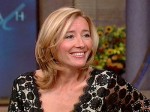 Tonight on the Late Late Show, a rebroadcast of last Thursday's golf-delayed episode, with actress Emma Thompson and comedian Carlos Alazraqui.
© 2010 – 2011, RSANews. All rights reserved.