Super Bowl Show Guests

When Craig Ferguson & Company put together the special Super Bowl Edition of the Late Late Show, they'll have some big-name guests along for the ride. CBS announced that when the show airs on February 3rd, Craig's guests will be New Orleans Saints quarterback Drew Brees, actor Steve Carell, actor Neil Patrick Harris, actress Nikki Reed and TV host Julie Chen. The local CBS television station in New Orleans and the Times-Picayune newspaper are reporting the story. Add those guests to some planned comedy sketches and visits to some New Orleans landmarks, and it will be a blockbuster show.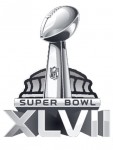 We would say "set those DVRs" but the starting time will be in flux. After the game ends, CBS plans to air an episode of the drama Elementary, followed by your late local news and finally the Late Late Show. The exact starting time won't be known until after the network's post-game coverage concludes. We'll be sure to post and tweet the starting time once it's determined.
Hanging Out in Studio 56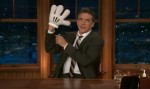 The RSA's @ShariVig and her son were in the audience last Thursday when Craig taped two shows, which aired last Thursday and Friday.
Watching the Show In Person
I really wanted to share my and my son's experience last week when we went to a taping. My son was on the cold open on Friday. Although I have been to the show several dozen times, my son has been wanting to attend a taping since he was 15.
Finally when he reached 18, we made our way from Phoenix early Thursday morning to get to that afternoon's taping. We made it and were first in line. Once in the studio, we were in the front row right behind Michael Naidus the producer. My son could not stop laughing at Chunky B's humor. It was great to be there on a Thursday and was able to get to see two shows.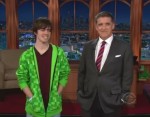 The first show started and Craig came out. My son was wearing a bright green pixilated-looking hoodie from the game Minecraft. Craig gestured at him and his jacket. The first show went on and it was great, of course. Then the second taping began. Craig came out and did his monologue. During the break, he told my son to "get down here." I have never seen my son so nervous.
While they were putting his microphone on, Craig, who knows who I am because he signed my neck and I had it tattooed, asked me if that was my son. I told him yes and to be "nice." Well from there you all saw what happened next. Afterward, Craig looked at me and gave me a smile and a thumbs-up as if to ask me if that was OK. I shook my head and gave him a thumbs-up back.
During the tweets and emails, Craig and Geoff then talked about my son again, but they apparently cut that, probably because one of the interviews went long. However, after they filmed the tweets and emails, Craig came over to us and asked my son if he was all right and chatted with us for a minute. Craig turned to Michael, the producer, and told him he wanted to make sure all three of us (my son, daughter and myself) would get to go to The Ivy restaurant.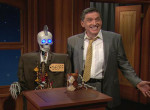 Craig's staff was great. They took us into an office after the show and talked to us about our dinner. They took care of everything. They asked us when we would like to go and since we were headed down to Anaheim that evening, they called the restaurant and got us a reservation for 8pm that night. The Ivy was amazing and the food was great. They didn't even bring us the bill. After dinner the waiter came up to us and said, "It's all taken care of."
Overall it was a completely amazing day. My son has truly been changed from the experience. If that wasn't enough, the following day we were at Disneyland and a girl walked by and said, "Hi Matt." She then said, "I was at Craig yesterday." It was such a coincidence that we would run into someone else who was at the taping and recognized my son. I know we all know this, but Craig is truly such an amazing and genuine person and his staff is so awesome.
Thank you to @ShariVig for sending us her story! If you have a chance to see Craig in person, doing a show at CBS Television City or performing stand up comedy, we want to hear from you. Just use our Contact Us form to send us your story. Will you be in New Orleans to see the show taping on Wednesday, January 30th? Be sure to share your experience with the rest of the RSA!
Super Bowl Show 2007
The last time Craig did a special post-Super Bowl show was in 2007. Here is that show in its entirety. Enjoy!
Video courtesy: KeepInTouch0

Tonight's Guests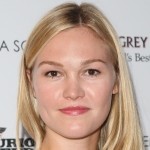 Thursday on the Late Late Show, Craig's guests are actress Julia Stiles, last-minute addition actor Jerry Ferrara and comedian Tom Cotter. On Friday, watch for actress Carrie Fisher and actor Steven Yeun.





Guest Update
The Late Late Show guest listings have been updated through January 30th, including Kathy Griffin, Michael Weatherly, Simon Helberg and Dominic Monaghan, plus future guests Kristen Bell, Joe Theismann, Ariel Tweto and Allison Williams. The show will be in re-runs next week as Craig & Company gear up for the Super Bowl special and will feature all-new shows with pre-recorded guests in the week leading up to the big game. You can see the latest details on our Guests page any time.
With the show going into re-runs for a week, we'll step aside for a short break and return with daily news about Craig and the show on Monday, January 28th.
© 2013, RSANews. All rights reserved.