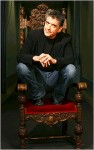 As we approach the Christmas holiday, Craig-related tweets are getting few and far between as the Late Late Show team takes a well-deserved break.  The studio at CBS Television City in Los Angeles is dark this week but thanks to the LLS team's hard work, we get to enjoy four more fresh episodes this week!
On Tuesday, December 21st, Craig and his wife Megan will celebrate their second wedding anniversary.  Congratulations and best wishes from the Robot Skeleton Army!
Back in 2007, Entertainment Weekly's Ken Tucker wrote about Craig and his growing visibility as the host of the Late Late Show.
The website Cracked.com has an extensive profile of Craig.
Back in 2006, Craig was doing lots of interviews for his book, Between the Bridge and the River. Here are two from the archives.
Video courtesy: HeidiDeidiDei

Video courtesy: HeidiDeidiDei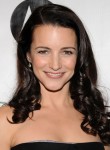 Monday on the show, Craig talks with a favorite guest, actress Kristin Davis and then welcomes legendary talk show host Dick Cavett.  We're hoping to see a great discussion!  Then on Tuesday, Craig interviews actress Jane Fonda.
© 2010 – 2011, RSANews. All rights reserved.