Craig Invades Canada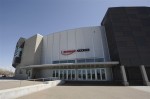 Craig Ferguson is on a week-long tour of Canada, bringing his stand up comedy performances to venues across the country. Josh Robert Thompson is opening for Craig on the fall tour. This weekend's sold out stops include Regina, Winnipeg and Lethbridge. You can see the full tour listings with dates, times and ticket links on our Live Comedy Tour page.

Craig to Appear on NBC Sitcom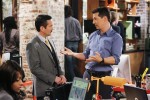 Craig will be making a guest appearance on the NBC sitcom Sean Saves The World, with star Sean Hayes and frequent LLS guest Thomas Lennon, reports SpoilerTV.com.
Revelation From Apostle BG
Josh's latest post from his improvised variety show features a longer segment with the Apostle BG (including a previously released promo of an investigative news report about him) and a revelation about the preacher's past.
Video courtesy: joshrobertthompson

© 2013, RSANews. All rights reserved.