It's another busy week for Craig, not only hosting five brand-spanking new episodes of the Late Late Show, but appearing live on stage in conversation with comedian Lewis Black at the El Ray Theatre in Los Angeles on Tuesday, plus a pair of stand up comedy performances:  Friday in San Diego at the Balboa Theatre and Saturday in Riverside, CA at the Fox Performing Arts Center.
The hashtag #moviesinmypants was trending for a while on Saturday, prompting Geoff Petersen to say:  What's this? #moviesinmypants is trending? Shut the front door! Geoff also tweeted:  Big Saturday night for the robot skeleton sidekick. Unplug my 12′ cord, crack my knuckles, and dream my bony dreams. Oh my, that's the stuff And on Halloween, Geoff has been tweeting:  People keep saying "Hey, nice costume." But I'm not wearing one. Ouch. //  Did I just hear Monster Mash in World Series? Not the same without @craigyferg in his blood stained lab coat. Ding dong!
Geoff's voice, Josh Robert Thompson, enjoyed the holiday as well:  Orson Welles' 1938 radio production of 'Dracula' on vinyl, Pumpkin Ale and old horror movie trailers with the sound turned down. Enjoy.
The RSA's esteemed General @Malinky2Stoatir attended Craig's 7pm performance at Carnegie Hall last weekend and has posted a blog about the experience.  The good feelings surrounding the robot skeleton army are evident, as are those for our fearless leader.
Randy Kagen had a video clip in reserve from the crew's visit to Philadelphia last week.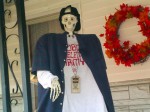 The FergyBot4000, creation of the RSA's @tzankoff went out on the town for a little Halloween week fun.  You can check out his tweets for more.
An article  in the Albany, NY Times-Union about Mythbusters Grant Imahara makes reference to Craig Ferguson and his robot skeleton sidekick.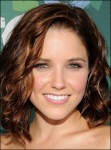 It's another week of all-new episodes of the Late Late Show, with at least the first two days pretty well locked in on the schedule.  On Monday, actor/director/producer Tyler Perry and actress Sophia Bush are in the studio. On Tuesday, Craig welcomes comedian Lewis Black and musician Bettye LaVette.
Then things get a little less certain.  As recently as a week ago, it appeared that  Stephen Fry was to be in the studio for a taping on Wednesday but his name has been removed from all of our usual sources. We're trying to get to the bottom of it and will let you know what we find out. All the schedules still agree that musician Dr. Dog is scheduled to appear on Wednesday.
On Thursday Craig welcomes actor Dick Van Dyke and actress Kerry Washington.  And on Friday, the lone guest on the schedule is philosopher/author Cornel West but that listing also appears to be subject to change.  We'll keep an eye on things and keep you posted.
© 2010 – 2011, RSANews. All rights reserved.