Comedy Special Update: Craig Ferguson's stand up comedy special will be available on Netflix beginning May 20th. Details on our Stand Up Special page.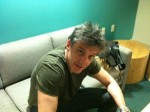 Once again, Craig Ferguson's stand on not doing jokes about an actor clearly in distress is making news.  National Public Radio blogged about Craig's Monday monologue and as Fancast.com pointed out, Craig was the only late night host to step away from the Charlie Sheen jokes for now.
Coming up March 28-31, you can bid to win autographed copies of Craig's books, Between the Bridge and the River and American On Purpose.  The winning bid will become a donation to the Red Cross… a portion will go to the Nashville Chapter which is conducting the auction and the rest will go to the national organization.  Bookmark the link to the page if you are thinking about making bid.  We'll repost the link closer to the opening date.  Thanks to the RSA's @Colleen_Byrne for letting us know about the auction.
Thanks also to the RSA's @BeeEssBee, who spotted that someone must have noticed Craig's monologue about the King of Saudi Arabia… because there is now a version on YouTube with Arabic subtitles.
Anglotopia.com enjoyed Chris Hardwick and Bridger Winegar's trip to the Los Angeles Doctor Who convention.  And in case you wanted to see it from the other side, one conference attendee got some video.
FilmShaft.com has an article about the upcoming Winnie the Pooh film, opening in the US on July 15th.  It appears our British friends will have the chance to see it first… the film will open in the UK on April 15th.
Josh Robert Thompson sent a tweet of advice:  Again I say: if ur following @fakearnold and think it's me, think again! #notmytweets
With the one and only Hugh Laurie returning to the Late Late Show on Wednesday, we thought it only appropriate to show his first visit with Craig.  This interview is from November 10th, 2004 when Craig was auditioning to become the permanent host of the LLS.  Thanks to the RSA's @PandoricaLime for the link.
Video courtesy: karamell09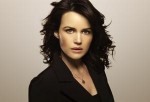 Tuesday on the Late Late Show, Craig welcomes actress Carla Gugino and actor Tom Lennon.  LLS Producer Michael Naidus sent a pair of  tweets about Tuesday's show.   The first gives us a hint of tonight's opening segment.  Dear Lord, I think the rabbit's been hanging out with the robot. And the other was in response to Tom Lennon who tweeted:  Just shot @CraigyFerg's show for tonight!!! Michael responded:  @thomaslennon Shot? Yes. Killed? Yes (or no) depending on what you mean by "killed" On Wednesday, actor Hugh Laurie returns to chat with Craig, his old show business pal.
GUEST UPDATE:  Also on Wednesday, Craig will interview reality TV personality Ariel Tweto from Flying Wild Alaska.  And on Friday, Kathy Griffin will appear in place of actor Tim Meadows.  We'll let you know when he is rescheduled.
Note:  Our site redesign updates are now (mostly) complete.  And if you haven't seen your daily email from us lately, there's a reason.  We messed up.  Details in The HOV.
© 2011, RSANews. All rights reserved.