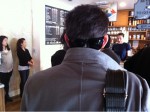 Craig tweeted from his local coffee shop on Thursday afternoon:  http://yfrog.com/gz12yobj weird looking hairy dude in front of me in line keeps staring at me. Let's hope it didn't distract him from buying jazz CD's while waiting for his latte.  But Craig has also found a new distraction to fend off boredom.  He tweeted:  Tiny Wings is the methadone for my Angry Birds habit. If you haven't seen it, Tiny Wings is the latest iPhone/iPad game that has thousands of players transfixed.  By Thursday evening, Craig headed back out in search of entertainment:  At Staples ctr to watch Kings vs Sharks. Really want to ride the zamboni. #thatcode We're guessing Craig must be a Sharks fan, given his adventure in the Caribbean last summer.
Josh Robert Thompson mentioned on his Twitter account that he'd like to be the new voice of the AFLAC duck:  Operation: Replace the AFLAC duck is underway! Back off, kid. Daddy's got this. #AFLAC Voice actor Brock Baker promptly jumped into the fray:  Challenge accepted, may the best man win. #AFLAC The AFLAC duck had been voiced by Gilbert Gottfried.  But the comedian was released by the insurance company after it read some of his jokes about the earthquake and tsunami in Japan, where the company does 75% of its business.
Tickets for Craig's Seattle show are on sale now, but apparently only pre-sale tickets are available until Saturday.  In order to get pre-sale tickets, you have to sign up for the Seattle Theater Guild's email newsletter to get the coupon code.  General ticket sales will begin on Saturday as originally scheduled using the link on our Live Comedy Tour page.  Our apologies that we were unclear that Thursday and Friday ticket purchases require the code.  It wasn't made clear to us at first, either.
The RSA's @HMSFox took some pictures while in Denver for Craig's shows last week, including an RSA meetup, some snakeskin boots to go along with rattlesnake mugs, HMSFox's Sid puppet in traffic (imagine what he must have been saying!), Sid crossing the border and Sid in the hands of a statue at the Science Museum's pirate exhibit.
And speaking of pirates, what would the RSA be without @Fergufool's LLS video collection treasures like this one?
Video courtesy: Fergufool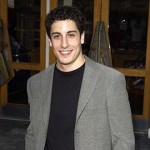 Thursday on the Late Late Show, enjoy a rebroadcast of the February 11th show with actor Jason Biggs and science writer Jennifer Ouellette.  Then on Friday, it's an encore of the March 8th episode featuring actor Topher Grace and actress Catherine Deneuve.
Thanks to all of our contributors who send us stories and pictures from Craig's shows on the road.  The rest of the RSA is always happy to see them.  Who has tickets for the charity event where Craig is performing in April?  Or to his show in Windsor?  Let us know… we'd like to hear from you.
© 2011, RSANews. All rights reserved.