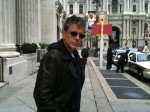 Monday will be Craig Ferguson's first day back to work after the birth of his new son, Liam James. We suspect our fearless leader may be a little tired and might have a parenting joke or two in the monologue.  At the end of the week, he'll head to Oklahoma for his first stand up comedy performance of year on Saturday and fly right back to Los Angeles for the Grammy Awards on Sunday.  We're crossing our fingers for a big win on Sunday night!
Back in 2009 when Craig was promoting his autobiography, he was profiled by the New York Times, which asked him about his youth in Scotland and when he was chosen to host the Late Late Show.
The title of Craig's new stand up comedy special premiering February 19th and EPIX and EpixHD.com is Does This Need To Be Said.  In this interview clip, you'll see why:
Video courtesy: EpixHD

Do you have your Secretariat ring tone yet?  It's #9 on this list.  (Shh!)
It's another week of all-new episodes of the Late Late Show… Craig's first week back since the birth of his son Liam.  On Monday, Craig will read some emails with actor Dominic Monaghan, chat with actress Gabrielle Union and bring us a performance by comedian Kurt Metzger who was bumped from last week.  On Tuesday, Craig's guests are actress Emily Blunt and Egyptologist Dr. Kara Cooney.  Although she studies ancient Egypt, she may have some insight on the current situation there.  Wednesday, legendary comic actor/producer Carl Reiner is on the show and Craig cooks with Chef Cat Cora.  Actress Jennifer Beals is Craig's guest on Thursday.  And on Friday, watch for actor Jason Biggs and science writer Jennifer Ouellette.
© 2011, RSANews. All rights reserved.