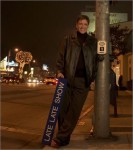 Episodes of the Late Late Show will continue to be new leading up to the February ratings period.  There are no studio tapings scheduled the week of January 31-February 4, ahead of Craig's stand up performance in Thackerville, Oklahoma on the 5th, but plenty of new guest segments are being recorded and put "in the can" to be saved for that week and avoid the re-run fairy.
The Comedy Works in Denver, where Craig will perform in March, has been around for 25 years, bringing stand up performers from around the world to the mountain west.
Back in May of 2008, Michael Naidus was promoted to producer of the Late Late Show, as reported in the Hollywood trade paper Variety.
When Craig took over the Late Late Show in 2005, he did it with a style befitting his heritage… well, his heritage according to the movies anyway.
Video courtesy: HeidiDeidiDei

It's another week of all-new episodes of the Late Late Show, beginning Monday with actress Valerie Bertinelli and professional basketball player Pau Gasol.  On Tuesday, one of Craig's favorites is back in the studio, actress Jennifer Love Hewitt, along with actor Jon Lovitz.  We're also been told to watch for the opening segment on Tuesday, which will feature the Swedish TV personalities and comedy team known as "Erik and Mackan",  Erik Ekstrand & Mackan Edlund.  On Wednesday, Craig welcomes back actress Betty White and actress Ellie Kemper.  Actor Adam Goldberg and therapist Dr. Ruth Westheimer are in the guest chair on Thursday.  And on Friday, watch for actress Helena Bonham Carter and a performance by Larry Gatlin and the Gatlin Brothers.
© 2011, RSANews. All rights reserved.