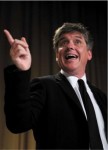 Still eating turkey leftovers?  Yup, us too. Since it's a holiday weekend, we thought we'd dig back in the archives for some interesting items you may be seeing for the first time.
Back in 2007, the Saint Petersburg Times did a long profile of Craig, talking about his path to the Late Late Show.  We recently stumbled across a reprint of the article in the Seattle Post-Intelligencer's website.
The online publication Gothamist in New York City profiled Craig in 2007, digging deeper into his early years.
Here's a hidden gem.  The audio is a little rough but you'll be able to enjoy Craig appearing on Late Night with Conan O'Brien in 2001 to promote the movie "Born Romantic". Our apologies for the ads before or during the clip.
Video courtesy: lafco2006i

Craig reached his 500th tweet on Friday, after joining Twitter on February 8th, 2010.
Saturday, November 27th is the birthday of musician Jimmy Hendrix.  Appropriately, it is also International Aura Awareness Day.  In honor of Jimmy, our aura has a sort of purplish tinge to it today.  And Sunday, November 28th is Independence Day in Albania and Mauritania and it's Republic Day in Chad.  It's also the first Sunday of Advent.  What will be behind door number one on your Advent calendar come Wednesday?
© 2010 – 2011, RSANews. All rights reserved.