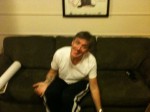 Who knew that Secretariat could be Danny Devito?  The only thing Craig seemed sure about Tuesday night was that he'd rather not be the other half of a two-person horse costume.
Craig was sure to tweet about Randy Kagan's upcoming stand up comedy appearance near Chicago:  My friend, The hilarious and profane @randykagan is @ Zanies,St Charles IL Nov10-13. He's cute but dirty. Like a filthy kitten. Randy himself tweeted another nice picture from last week's tour, when the gang stopped by the Franklin Museum in Philadelphia:  I like big heads and I can't deny… Franklin Museum Philly. http://yfrog.com/0tcnpzj
Several roboskellies who haven't had a chance to see Craig perform live have been asking when he might be putting out a new DVD of his recent stand up act, since his first special A Wee Bit o' Revolution has been out for a while now.  They've been keeping an eye out for cameras but none have been spotted, even at Carnegie Hall last weekend.  But the ever-vigilant @bgrhubarb snagged a passing tweet from a fan called @whyamiontwltter (great user name) who said:  @CraigyFerg Got a call from TPAC about your shows next month. They moved our seats, b/c of YOUR cameras. Now I have better ones. (Thanks). TPAC stands for Tennessee Performing Arts Center where our fearless leader will be appearing on November 20th for two shows.  Comedy specials often edit material from two or more shows in case one particular part of the show does better in one performance than another.  And as you can seem from the comments below, tickets for the Nashville shows say that the performances are being taped for television.  We're guessing a new cable special and/or a new DVD are in the works, possibly coming out some time in 2011.  We're not sayin', we're just sayin'.  We'll keep you posted on where you can see the finished product.
Craig's assistant Rebecca Tucker opens the mail and sometimes… well… we'll just let her speak for herself:  Sometimes I just really love weirdo fan gifts. http://twitpic.com/31e1oz
The entertainment trade paper Variety has an interesting take on the state of late night television.
Remember, you can tweet:  Craig Ferguson #talkshowhost #peopleschoice or put a write-in vote on the People's Choice website until November 9th.  If Craig is among the top five vote-getters, he'll be nominated for the award.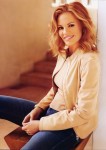 Wednesday's Late Late Show features actress Marg Helegenberger plus and interview and performance from actor/musician Donald Glover.  On Thursday, Craig welcomes back Sir Michael Caine.
© 2010 – 2011, RSANews. All rights reserved.