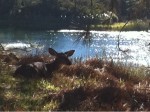 It's so great to see family over the holiday weekend.  And it's even better to get back home.  Whew!
Craig has been enjoying a weekend off and has been snapping some pictures in and around Hollywood.  Today, he tweeted a great shot:  http://yfrog.com/614ky012j Lake Hollywood on a Sunday afternoon only 10 mins from Hollywood Blvd. Proof crackheads don't hunt.
Like so many of us, Geoff Petersen is going through some Craig withdrawal after a long weekend:  This downtime has helped me recharge but enough. I want my @craigyferg. I need sidekickedness. I have… Podium lust.
We still haven't heard when Secretariat's visit to Hollywood Park will be airing but we'll keep our eyes open.
The group trying to preserve the historic Cumbernauld House in Craig's hometown is selling calendars as a fundraiser.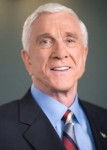 Comedic actor Leslie Nielsen has died at the age of 84, according to Canada's National Post and CJOB Radio, which spoke with his son.  Nielsen was best known to American audiences from the Airplane and Naked Gun series of films and was a beloved actor in Canada for his countless comic roles and cameo appearances on the big and small screens. Film critic Roger Ebert dubbed him "The Olivier of Spoofs". Although he was a naturalized American citizen, in recognition of his work and service to his native country he became an Officer of the Order of Canada in 2002.
The Late Late Show returns with all-new episodes this week, starting Monday with actor Michael Sheen and musician Michael Franti.  On Tuesday, Craig talks with actor Dj Qualls and author Salman Rushdie.  On Wednesday, legendary TV host Regis Philbin is on the show, along with comedian Greg Proops and actress/singer Nellie McKay.  On Thursday, Craig's guests are comedian Cedric the Entertainer and singer Norah Jones.  And on Friday, it's the long-awaited return of actor Ewan McGregor, plus actress Shannon Woodward.
© 2010 – 2011, RSANews. All rights reserved.