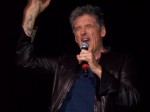 Craig Ferguson and Randy Kagan wrapped up their sold out ten-show run at the Comedy Works in Denver Sunday night.  After working out new material, they have some polished sets ready for bigger venues in the coming months.  As of now, there are 13 shows scheduled at 11 locations around North America in 2011, including three shows in the Vancouver area.  One will be at the Red Robinson Show Theatre and the other two will be at the River Rock Casino… a second show was added there due to high demand.  If you haven't decided where to see Craig performing live this year, check out the ticket information on our Live Comedy Tour page.  Tickets are selling quickly, so book early to avoid disappointment!
We have some RSA pictures to share, thanks to @GenieFirestone.  Here are some of the RSA ladies and gents having fun in and around Denver including a trip to the mountains, before a show at the Comedy Works, between shows, having dinner and mouth organs!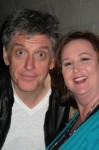 The RSA's @Diane4Mail was among the many roboskellies in Denver this past week, getting a chance to see Craig up close and in person.  She wrote an account of her experience and sent it to us to share with you.
Do you have a Craig story to tell from Denver?  Please let us know.  You can submit your story using our contact form.  If it's a bit too long to fit in the box, don't worry… just send it to us in smaller chunks and we'll reassemble it.  Your fellow skellies will appreciate hearing your story!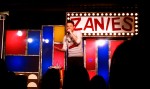 Thanks to the RSA's @beccarebec, who attended the @nerdist Chris Hardwick's sold out stand up comedy show in Chicago on Friday night and snapped a picture.
The re-run fairy is in town this week, as CBS treats us to some encore episodes of the Late Late Show.  On Monday, it's the January 13th episode, featuring actor Denis Leary and comedienne Kathleen Madigan.  On Tuesday, Craig chats with actress Helena Bonham Carter and enjoys a performance by Larry Gatlin & The Gatlin Brothers from January 28th.  Wednesday, watch for Craig's February 2nd conversation with The Big Bang Theory actor Jim Parsons.  Actor Jason Biggs and science writer Jennifer Ouellette will be seen on Thursday's encore from February 11th.  And on Friday, we'll see the March 8th episode with actor Topher Grace and actress Catherine Deneuve.
In case you had cloudy skies on Saturday night, the folks at Space.com compiled a nice collection of pictures of the "super moon" rising at locations around the world.  Thanks to the RSA's @SariesWick for spotting these.
© 2011, RSANews. All rights reserved.