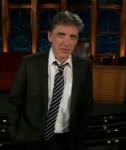 Late Late Show production assistant Bridger Winegar tweeted:  On tonight's @CraigyFerg, @nerdist and I travel through time, space and hotel convention rooms. He's talking about the Los Angeles Doctor Who convention known as"Gallifrey One" last weekend, when he and Chris Hardwick brought along a camera crew to record their experiences for DW fan Craig Ferguson.  You'll see the results of their visit on Monday's show.  Hardwick tweeted:  Had a BLAST doing @CraigyFerg's show w/ @isaccmizrahi & @pattonoswalt (who crushed). Craig added:   Oscar worthy awkward pause from @pattonoswalt tonight. Truly a golden moment. The website nerdreactor.com talks about Hardwick being at the show.
Mediabistro.com talks about Wolf Blizter's appearance on the Late Late Show.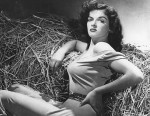 There are two passings we wanted to mention:  The RSA's @KarlynMyJournal drew our attention to the last known US veteran of World War One, Frank Buckles, who died Sunday at the age of 110. Only two known remaining surviving participants of that war are a man in Australia and a woman in England.  The other obituary making news today is that of a Hollywood icon of the second world war era, actress Jane Russell.  The buxom brunette starred in many films and was a popular pin-up throughout the war years.  She was 89.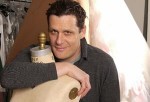 Monday on the Late Late Show, we'll see the DW convention segment with the @Nerdist Chris Hardwick.  Then Craig talks with fashion Designer Isaac Mizrahi and actor Patton Oswalt.  Mizrahi tweeted on Monday afternoon:  Just came off the air with @craigyferg. He is SO SEXY! The cutest nipples in the business! And Oswalt tweeted:  Holy shit. Just did the loosest, most fun panel on @CraigyFerg's show. Like hanging out with a bud. Please watch. He added:  Yeah, @CraigyFerg is an old-school talk-show host…a funny, smart guy who can riff on anything. Never hurried or stymied. On Tuesday, Craig welcomes actress Carla Gugino and actor Tom Lennon.
© 2011, RSANews. All rights reserved.