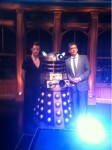 Tonight is the night Doctor Who fans will get to see the opening musical number originally recorded for the show in November featuring the eleventh Doctor, Matt Smith.  Due to pesky music rights issues, the segment had to be delayed until tonight.  But the timing is good because one of Craig's guests tonight is none other than actress Alex Kingston, who plays the character of River Song in the long-running British science fiction series.  If you just can't wait, the clip was "leaked" online in late November.  Craig retweeted Bridger to remind us:  On tonight's Late Late Show with @CraigyFerg, what once was lost now is legally cleared to air on television. Bring along your sonic screwdriver and dance!
Geoff Petersen brings up a good point about Craig's other guest tonight:  So excited to have CSI's @GarySinise on @craigyferg tonight. No telling what his lab's blacklight would find in this place. Geoff also thanked Mythbusters' Grant Imahara:  Gotta say @grantimahara is super. Not only provided the splat mat under my seat for cocktails, turns out he's a check grabber. Thanks Grant!
Is it official?  Is the island upon which the Hollowed Out Volcano is located known as Craigtopia?
A blog called StitchKingdom.com has a first look at the new teaser poster for the Winnie the Pooh film, due out in the summer, featuring Craig as the voice of Owl.
New York Magazine caught Craig's anticipation of his new arrival and all the comes with it.
Craig renewed his offer to Larry King that he's welcome on the show:  @kingsthings Larry you have my personal invitation to be on any time. I love you man. I'd bump Saget for you. Actor Craig Bierko added:  I've bumped Saget, he's very generous
The RSA's @bgrhubarb reminds us that Craig's sister Lynn Ferguson is producing a pair of one-woman shows in Los Angeles January 17, 18 and 19.  As we've reported here before, the shows are part of the One Hour Theater project at the Stella Adler Theatre.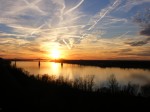 Enjoy a nice sunrise?  Here's one from the RSA's @KarlynMyJournal who caught the sun rising over the Mississippi River at Natchez.
A note to Topeka and Eastern Kansas viewers: The first half of the Late Late Show will not be seen tonight "in your region" due to maintenance on the WBIW-TV digital channel 44.1 tower.  The work being done will boost the signal to make it possible for more viewers to see the channel in the future but you may have to wait to catch up with the opening musical number, monologue and tweetmails tomorrow on the googly-web.  The station is expected to be back on the air at approximately 12:05am CT.  You may also want to point your antenna northeast and try to pick up KCTV digital channel 5.1 out of Kansas City.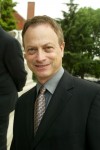 Thursday on the Late Late Show, Craig welcomes actor Gary Sinise and will broacast the famous Doctor Who musical number in honor of actress Alex Kingston. On Friday, Craig's guests are actress Mila Kunis and Las Vegas comedian Geechy Guy.
© 2011, RSANews. All rights reserved.