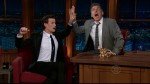 It was a fun Doctor Who special Tuesday night, as a big new audience of Whovians had a chance to experience the wonder that is Craig Ferguson and the Late Late Show.  The interview with Matt Smith, tweetmails with Chris Hardwick and a Dalek on the set all contributed to a festive atmosphere.  The show opened and closed with Craig's disappointment that the network was unable to secure the rights to the Doctor Who theme song to use for a musical number.  But Craig did say on the show that perhaps the pre-taped dance segment might be leaked on the internet at some point.  We haven't seen it yet but we'll keep our eyes open.  Thanks to the RSA's @ScottishConan for capturing the freeze-frame high five:  Freeze-frame high five! #CraigFerguson http://twitpic.com/37k88t
Britain's Daily Mail had fun with Matt Smith's appearance on Tuesday's Late Late Show.  Ken Tucker of Entertainment Weekly enjoyed it and so did USA Today.  Thanks to the RSA's @robinsandyson for sending us that link.
TVSquad.com goes more in-depth about the Doctor Who special being planned for Christmas Day on BBC America, as does digitaljournal.com.
Matt Smith's appearance on the @Nerdist podcast is expected to be posted Sunday or Monday, according to Chris Hardwick's tweet, where he also promoted the Tardis vs. DeLorean t-shirt he wore on the LLS:  Matt Smith podcast goes up Monday! (possibly Sunday) Delorean crashing into TARDIS shirt was purchased on @woot: http://afx.cc/kec#answers
Utah's Salt Lake Tribune talks about the filming of a portion of an upcoming Doctor Who episode at Monument Valley.
A blog on Canada's Macleans magazine website comments on Bill Carter's book on late night hosts, mostly to talk about Jay Leno but compliments Craig along the way.
When William Shatner appeared a few weeks ago on the Late Late Show to promote his new CBS sitcom, he brought along a video camera.  In this clip, we get to see a little bit behind the scenes for a moment before and just after what actually aired that night.
Video courtesy: WilliamShatner

Craig will be in Nashville, Tennessee for two stand up comedy performances on Saturday, November 20th.  The RSA's @tzankoff will be bringing along @Fergybot4000 to meet and greet folks before the first show and after the second.  Follow either of their Twitter accounts for details about where and when you can see the RSA's "other" robot.  Meanwhile, @HMSFox is finishing up seating charts for both shows… tweet her if you'd like to be included.  And @Colleen_Byrne and @NancyInTampa are working on the tweetup(s).  Tweet them for details if you'd like to get together with your fellow robot skeletons this weekend.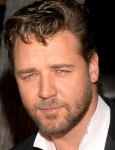 On Wednesday's Late Late Show, Craig welcomes actor Russell Crowe and from the daytime TV program The Doctors, OB/GYN Dr. Lisa Masterson.  On Thursday,the Late Late Show website now lists actor Jeff Goldblum, who was bumped Tuesday night amid all of the Doctor Who festivities.  It's possible that actor Mark Ruffalo and author Dennis Lehane, who were originally scheduled for Thursday will also appear… or one or both may be moved to another night.  We'll pass it along as soon as we know.
© 2010 – 2011, RSANews. All rights reserved.