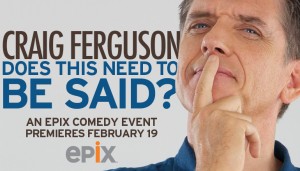 It's a big news day!  As we first reported Thursday morning, the hollowed out volcano is buzzing about the release date for Craig Ferguson's newest stand up comedy special, Does This Need to be Said? Here is the most complete information we have so far, gathered throughout the day:
RELEASE DATE: The special, which is being produced from Craig's shows in Nashville back in November and featuring material from his 2010 stand up tour, will first be made available on the Epix premium cable channel and streamed online at EpixHD.com on Saturday, February 19th, 2011. *(See below for details about Epix)
NETFLIX RELEASE: If you are a Netflix subscriber, the special will be on Netflix on or about May 21st, due to a 90-day delay deal between Epix and Netflix.
DVD RELEASE: DVD sales have not yet been announced but are expected later this spring.
PREVIEW VIDEO: Before the Nashville shows, the Epix shot a number of interviews with Craig and several fans.  They are editing preview videos leading up to the show's release.  The first of those videos, which has familiar roboskelly faces can be seen here.  They say more are on the way, featuring more Craig fans… as more are released, we'll keep you posted!  If the video seems jerky, remember that it is shot in HD, which takes a lot of megabytes.  Try pausing it just as it starts and letting it load (watch the light gray bar along the bottom) before pressing play again.
WHAT IS EPIX?: *If you're not familiar with Epix (pronounced like "epics", it is a premium movie channel, similar to HBO, Cinemax, Showtime, Starz, etc. and also has an on-demand feature. The channel offers films from Paramount, MGM and Lionsgate Entertainment, which are its joint owners.
| | |
| --- | --- |
| Providers that carry Epix: | Providers that do NOT carry Epix: |
| Dish Network | DirectTV |
| Charter Cable | Comcast |
| Mediacom | Cablevision |
| Cox Cable | US Cable |
| Verizon FiOS | TimeWarner |
| | AT&T U-Verse |
Source: Wikipedia
ONLINE RELEASE: If you don't have the Epix channel on your cable or satellite system, you may be able to watch online because EpixHD.com streams Epix's east coast feed.  There is a fee to watch online, however some clever robot skeletons have noticed that EpixHD.com does offer a 14-day free trial.
OUTSIDE THE US:  Epix is available on air and online only in the United States (for legal reasons), so it will not be made available in Europe, Australia or elsewhere for the short term.  If the rights for the show are picked up by overseas cable networks or the European region DVD become available, we'll let you know.
ooo
In other news today, BBC America liked supernanny Jo Frost's conversation with Craig, particularly when she tried to determine if he had back hair.
Examiner.com enjoyed Paula Abdul's reluctant dance moves to the Secretariat song.
The Las Vegas Weekly is recommending five must-hear podcasts, including the @Nerdist Chris Hardwick's show.  In particular, they suggest listening to the episode featuring Craig.
The voice of Geoff Petersen, Josh Robert Thompson is keeping busy:  Starting 5th season with @craigyferg, voicing more new FAMILY GUY, face/voice of @morethanfreeman & a TV pilot! Thanks for YOUR support!
We've noticed some roboskellies asking LLS assistant producer Andrea Wayland about automatic location services used in tweets.  Some RSA folks realized early on that if you enabled location services, it would leave you more characters to type your tweet to Craig.  But for some reason lately, the location feature does not seem to be working using Twitter's web page or some of the Twitter clients.  To be safe, be sure to include your name and town within your tweet, so it can be considered for reading on the show.  We're also glad to see she's back after being out sick.  Welcome back, Andrea!
On Thursday's Late Late Show, actor/comedian Denis Leary, returns to the show.  Will he and Craig finally wear the dresses they've said they would?  Plus comedian Kathleen Madigan is on the show… she may or may not be wearing a dress.  Wait, that came out wrong.  We're not sure what she'll be wearing but certainly she'll be wearing something.  On Friday, Craig's guests will be actor Paul Giamatti and actress Piper Perabo.
© 2011, RSANews. All rights reserved.