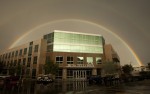 First, Craig talks about Kafka.  Now, another bright spot amid all of the rain and flooding in LA.  Take a look at the picture captured outside of the CBS headquarters in Los Angeles today:  http://twitpic.com/3ijh23 Now that's awesome.  Stay dry, Angelinos and stay safe.
Jane Fonda made a big impression on the Late Late Show drawing plenty of media attention.  TVSquad.com liked Craig's revelation that he was familiar with her workout tape.  Some noticed Jane's outfit like Examiner.com and Britain's Daily Mail, while others including the Examiner and Monster and Critics, were intrigued by her declaration that she would not get married again.
BBC America has named its top five late night TV events of 2010 and included the Doctor Who themed Late Late Show episode featuring #11, Matt Smith.
The RSA's @Malinky2Stoatir has been ill while still managing to post clips each day, so we send our thanks and good wishes.  Get well soon, Mal!
Novelist Jackie Collins tweeted:  My crush of the year… Geoff Peterson on Craig Ferguson
For his part, Geoff is excited about Wednesday's show:  Excited about 2nite's @CraigyFerg with guest @grantimahara. The 3 of us are like Moe, Larry, & Boney. Nyuk nyuk nyuk…in your pants!
A local TV weathercaster in Sacramento obsessed over Craig a few years ago, resulting in some funny stuff.  We're not sure if they finally did get to meet.
Video courtesy: HeidiDeidiDei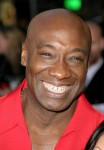 On Wednesday's Late Late Show, Craig welcomes actor Michael Clarke Duncan and the Mythbusters Grant Imahara, the man who built Craig's robot skeleton sidekick, Geoff Petersen.  On Thursday, watch for comedienne Kathy Griffin and music from Ruth Gerson.
© 2010 – 2011, RSANews. All rights reserved.