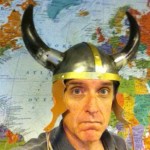 Craig is feeling a bit Viking-like today, thanks to his new headgear:  http://yfrog.com/63vujj How To Train Your Dragon comes out on DVD Fri(15). I got a free hat. Thanks @dwanimation. #besthalloweenever Along with the DVD coming out at the end of the week, we're seeing news that How To Train Your Dragon 2 has been green-lighted for release by Dreamworks in the fall of 2013 with most of the voice cast already confirmed to return, including Craig!
After a week of new shows in the studio in Los Angeles, Craig hits the  road for a week of live stand up comedy performances on on the east coast starting on Friday.  Here's the list of dates:
Oct 15 Rochester Institute of Technology, Rochester NY*
Oct 16 The Warner Theatre, Washington DC
Oct 17 The Paramount Theatre, Charlottesville, VA
Oct 18 DuPont Theatre, Wilmington, DE
Oct 19 Sovereign Performing Arts Center, Reading, PA
Oct 20 Weinburg Theatre, Scranton, PA
Oct 21 State Theatre , New Brunswick, NJ
Oct 22 Mohegan Sun Casino Arena, Uncansville, CT
Oct 23 Carnegie Hall, New York, NY
*Not on original calendar but updated thanks to @bgrhubarb
Some locations have two shows, depending on ticket sales.  Please check with the venue "in your region" for show times.  Comedian Randy Kagan who warms up the crowds for Craig on the road said it all: Fame Adjacent Tour starts 10/16 at The Warner Theatre in D.C and ends 10/23 at Carnegie Hall in NYC. Indian accent: "Get the party started!" Craig's assistant Rebecca Tucker reminds us:  There will be merch sold on the upcoming tour – last chance to buy tshirts!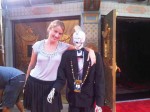 Geoff Petersen and the voice behind him, Josh Robert Thompson, appeared on the red carpet for premiere of the movie Red Monday night.  JRT tweeted:  I'm voicing/puppeteering Geoff Peterson at the "RED" movie premiere tonight in Hollywood! And Morgan Freeman will be there, too! Geoff is pictured here with publicist Katie Barker.
For those who watch the Late Late Show online, the RSA's General @Malinky2Stoatir is away for a couple of days and reminded us with a tweet:  Reminder: no Mal on YouTube tonight… #RSA Mal returns Wednesday.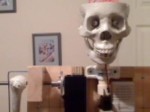 The RSA's @tzankoff has added another fun feature to his Fergybot4000… a voice!  Users can now submit ideas for the robot to say via his web page.
Adding more competition to the late-night landscape, comedienne Chelsea Handler is adding a half-hour show to follow her popular talk show on the E! network.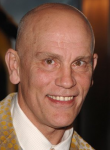 Monday's Columbus Day edition of the Late Late Show features actor John Malkovich and comedian Henry Cho.  Then on Tuesday, watch for country singer Trace Adkins and astronomer Derrick Pitts.
© 2010 – 2011, RSANews. All rights reserved.