UPDATE: How To Train Your Dragon has been nominated for two Academy Awards, including Best Animated Feature Film of the Year and Achievement in music written for motion pictures (Original score).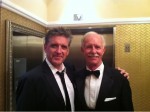 Craig sent along a picture from the Living Legends of Aviation Awards ceremony he attended on Friday night: http://yfrog.com/h3sscxj With my new BFF last Friday. I let him operate the elevator. Craig's new BFF is of course Chesley "Sully" Sullenberger, the heroic pilot of the U.S. Airways flight that made an emergency landing in the Hudson River two years ago, saving all of the passengers and crew on board. We reported on the awards ceremony in our Sunday post.
This just in:  Political pundit and commentator Keith Olbermann tweeted Monday evening:  A little birdie (or possibly a robot skeleton) advises all #FOK to watch @CraigyFerg tonight (that's always true, but especially tonight) #FOK means "Friends of Keith".  Olbermann hosted a prime time political show on cable outlet MSNBC until Friday, when he announced he was doing his last show.
Television critic David Bianculli pays Craig a high compliment in a broader Associated Press story about television hosts.
At the very end of a short article about one of Monday's guests, the Montreal Gazette says a nice thing about Craig.
The RSA's @bgrhubarb spotted an article that suggests Craig might appear with French talk show host and comedian Jaques "Arthur" Essbag at the Just for Laughs Comedy Festival in Montreal in July.  From the translation, it's unclear whether he means that Craig would be there in person or on videotape.  We've not heard anything about this from any other sources and still have heard no word if Craig might be a guest on Aurthr's show in France sometime… but we'll keep an eye on the story.
The resourceful @bgrhubarb also retweeted a Twitter user called @Sawyer666, who tweeted to Craig:  Hey @CraigyFerg, @menshealthmag named you one of the reasons why Im not losing weight http://tinyurl.com/2edw695 How do you feel about this We had to read it twice to understand what the author was doing.  There are separate pages for different reasons why you might gain weight.  Instead of using a generic headline like "Staying Up Late", the writer used "Craig Ferguson" as shorthand.  Amusingly, the URL link to that page ends with Craig Kilborn instead of Ferguson.
Did you check on the video on Monday's post from Craig's first show as permanent host of the LLS?
Late Late Show production assistant Bridger Winegar tweeted:  On tonight's Late Late Show with @CraigyFerg, find out what I get for having my heart in the wrong place.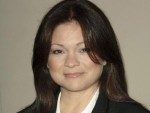 Monday on the Late Late Show, Craig talks with actress Valerie Bertinelli, and Los Angeles Lakers star Pau Gasol. Bertinelli tweeted earlier:  Just finished having fun with @CraigyFerg! Watch tonight! On Tuesday, Craig welcomes actress Jennifer Love Hewitt and actor Jon Lovitz.
© 2011, RSANews. All rights reserved.