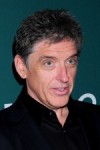 Two still frames from the new Disney Winnie the Pooh film have been released, to give viewers a closer look at the artwork, which is said to have been modeled closely after the much-loved earlier films. Craig will be the voice of Owl in the movie, which will be released in the summer of 2011.
A reviewer in Spokane, Washington's Northern Pacific Inlander says Conan O'Brien isn't the "most absurd" late night host… that title goes to Craig.
Geoff Petersen is looking for #songtitlesinyourpants
In May of 2008, Craig talked about his book on the Ellen show.
Video courtesy: HeidiDeidiDei

For a parting shot about Daylight Saving Time, the RSA's @Fergufool found a great Craig clip that says it all:
Video courtesy: Fergufool

Saturday, November 13 is World Kindness Day and the birthday of author Robert Louis Stevenson. And Sunday, November 14 is Remembrance Day in the United Kingdom. Remembrance Day in the UK is marked on the Sunday closest to November 11th and is analogous to Armistice Day/Veterans Day in the US, marking the end of hostilities in World War I and by extension, honoring veterans of all wars.
© 2010 – 2011, RSANews. All rights reserved.