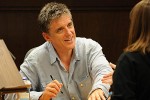 Craig fans are enjoying the behind-the-scenes interviews from Epix, promoting Craig's new comedy special on February 19th.  The RSA's @Colleen_Byrne noticed that if you go to the interview page and "X" out the main preview video, you can scroll down and see more interview clips that are "tutsi-fruitsy" uncensored.  Sid would be in heaven!
Craig introduced (via videotape) CBS Entertainment President Nina Tassler at a TV Critics Association press tour event Friday, as described in a blog from HitFix.com.  Reportedly Secretariat made an appearance on the video as well.  None of the articles we've seen so far mention any reporter questions or answers out CBS' late night lineup, so things must be going well at the nation's most-watched network.
Could Craig be making an appearance on French comedian Jaques "Arthur" Essabag's show?  According to an article quoting Arthur, the appearance could come in the first quarter of 2011.  We note that no studio tapings for the Late Late Show are planned for the first week of February.  We'll keep you posted.  Thanks to the RSA's @bgrubarb for finding the article and to Google for doing a mediocre but usable translation.
Drag fans, you heard it on Thursday's show:  Next time, Craig and Denis Leary are really going to do it… they're really going to wear dresses.  And maybe the other guests.  And maybe even Geoff Petersen.  Oh my!  We can't wait.
WEEKEND PROJECT: We need some new pictures of Craig to use here on the page.  If you're a big Craig fan with access to lots of #FergPorn, tweet us a link to your favorite(s) or send us the link using the "Contact Us" box on the right hand side of this page.  Please help us identify the source… we like to credit the photographer whenever possible.  Thanks!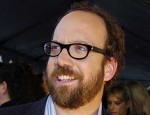 Friday's guests on the Late Late Show are actor Paul Giamatti and actress Piper Perabo.
© 2011, RSANews. All rights reserved.