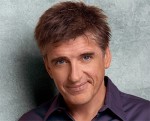 Craig Ferguson sent out a flurry of "Follow Monday" tweets, encouraging his followers to check out @BadAstronomer (Phil Plait), philosopher and author @CornelWest, renaissance man @stephenfry, the Mythbusters @donttrythis (Adam Savage), another Mythbuster and builder of Geoff Petersen @grantimahara and singer/songwriter @rosannecash.  Give them a try if you haven't already.
@BadAstronomer responded by saying:  You should all know that @CraigyFerg is handsome and smart and funny and possesses extraordinary powers of perception. #True He followed that with:  For all my new Robot Skeleton Army followers, here's my blog post about claims of alien life in a meteorite: http://is.gd/6kBlNQ @CornelWest thanked Craig: Bless you, Brother! and then said:  @CraigyFerg But I'm not an optimist, that's too thin…I'm a prisoner of #hope. Criag responded:   that's what I meant to say. @roseannecash was pleased as well:  What a bonnie lad. And she added:  The sheer power of a nod from @CraigyFerg is astonishing. Hello, squillion new followers. You are all very attractive. She is right… the power of @CraigyFerg is strong, with 558,000+ followers are growing.
One of Craig's funniest forays into film was The Big Tease. For our readers in the UK, you'll have a chance to see the film Tuesday evening at 10:35pm GMT on ITV. Thanks to @warning05 for the heads up! Here is the trailer from the movie:
Video courtesy: girlafraid50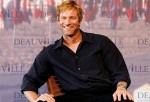 A careful observer will note that David Letterman, Jay Leno, Jimmy Fallon, Jimmy Kimmel and Carson Daly are all in re-runs this week but the Late Late Show still has fresh, new episodes!  Monday on the show, Craig welcomes actor Aaron Eckhart and comedienne Paula Poundstone.  Then on Tuesday, watch for actor Topher Grace and actress Catherine Deneuve.
© 2011, RSANews. All rights reserved.