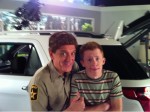 Craig got the volcano buzzing on Monday afternoon with a new picture that casts him in the role of an TV icon: http://yfrog.com/14nbgvj Bridger & I on set of ad for new Explorer. Ford r so confident in the car they don't mind my creepiness #sorryopie We're wondering what Ron Howard would have to say about all this.
Craig's able assistant Rebecca Tucker had a chance to take a day off in Washington, DC after the weekend's activities in Nashville.  She tweeted:  Thankful that the boss sent me to DC for a couple days – fall weather, seeing The Frames play and a guy who smells like truffle oil. yum. // Took my camera and LLS hat on a run thru DC! http://twitpic.com/398qx1 She also confirmed to the RSA's @tzankoff that it was she who took the picture of Fergybot4000.  @tzankoff that was me – thought i was high when I saw Geoff's twin rolling my way down a sidewalk in Nashville
The RSA's @Diane4mail captured a short video clip of a group of robot skeletons watching Craig's show at their hotel in Nashville on Friday night.  She also sent still photos of the group and of Craig on stage here and here.  The RSA's @LikelyPatriot captured another group picture of roboskellies in Nashville.  And of course, the one and only @SariesWick took a bunch of great pictures of Craig on stage.  Here's a link to her page.
Randy Kagan sent us another great behind-the-scenes photo from Nashville:  CF getting shmoozed. http://yfrog.com/5cimzsj He also sent a video clip from when he met Trace Adkins:  Trace Adkins and I in an awkward moment. Thought we were getting our picture taken. Ansel Adams f'd up. http://yfrog.us/0n5etz
TAKE A LOOK AT THIS:  The volcano has also been buzzing about a French comedian and television host named "Arthur" (born Jacques Arthur Essebag in Casablanca).  He has apparently hosted a number of radio and television shows over the years and has a new late night show that debuted on November 8th on France's version of the comedy channel.  The show, Ce Soir Avec Arthur, bears a striking resemblance to… well… you be the judge.  First the show's theme… then an introduction and musical number.  Umm… we're not sayin', we're just sayin'.
Video courtesy: TellMeMagazine

Video courtesy: ArthurSatisfaction

A race involving the Late Late Show's own Secretariat held at the Hollywood Park racetrack on Friday night apparently went well.  If what we've been hearing is true, we should see a segment about the race on the show sometime this week.
The online news site DigitalJournal.com reports that Doctor Who fever is gripping Utah, where the show will be filming in Monument Valley.  Meanwhile, the @Nerdist podcast featuring Matt Smith is now online.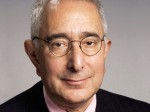 Monday on the Late Late Show, Craig's guests are actor/author Ben Stein, television host and OB/GYN Dr. Lisa Masterson and the music of The Very Best.  Dr. Masterson tweeted:  Fantastic Doctors show with Wendy Williams tomorrow! And I will be on the Late Show with Craig Ferguson tomorrow too!!! On Tuesday, Craig welcomes actor Mark Ruffalo, actoress Kathryn Hahn and comedienne Wendy Liebman.  Actress/singer Julie Andrews had originally been scheduled for tonight, as Craig tweeted:  Julie Andrews had to cancel 2nite. Ben Stein stepped in. I wonder if I can get him to sing something #supercalifragilisticexpialidocious. We'll let you know when she is rescheduled.
© 2010 – 2011, RSANews. All rights reserved.