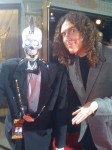 Geoff Petersen had a fun night Monday at the red carpet premiere of the film Red, where he hung out with some big names like Weird Al Yankovic, who sent a tweet:  Hanging with a friend at the RED premiere… http://twitpic.com/2wvnbu Geoff thanked Al:  @alyankovic thank you for that awesome time and the great pic! Ooohh to have your hair, Al. Heads up? …I did once. Hahaha…
Meanwhile, Josh Robert Thompson, who served as Geoff's voice and puppeteer enjoyed the evening:   A boy and his robot. Hanging with @geofftherobot at "Red" premiere in Hollywood! http://twitpic.com/2wwhy3 #RSA He also thanked Geoff:  @GeoffTheRobot Stellar job last night on the red carpet, my bony friend. Your face+My voice=Pants #RSA
Thanks to the magic of television (and an afternoon taping in Los Angeles), Craig traveled to San Francisco Tuesday night to perform at the annual awards banquet of the Direct Marketing Association.  The corporate event was not open to the public.
If you haven't been seeing Craig on YouTube, don't fret.  RSA General @Malinky2Stoatir has been away but returns tomorrow.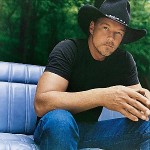 We should be in for an interesting show, if LLS producer Michael Naidus' tweet is any indication:  It was a close call tonight, but still, I can report that nobody got hurt in the making of the television program you are about to see. On that program you'll see an interview and performance by country singer Trace Adkins and Craig chats with astronomer Derrick Pitts.  On Wednesday, it's actress Minnie Driver and actor Diedrich Bader… and people in the know say harmonica player Buddy Greene will be part of Wednesday's show.   Even Geoff Petersen is excited about Tuesday's musical guest:  Getting set for Trace Adkins to be on the show. And me without a badonkadonk…
© 2010 – 2011, RSANews. All rights reserved.