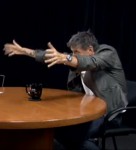 It must be the holidays because the volcano is buzzing with seasonal cheer and fun ideas, including a special version of the 12 Days of Christmas, written by several RSA members and posted by @Kelc0519 on her Twitpic page.  We hope your holiday plans are coming together and you're staying ahead of the weather.
Geoff Petersen and his creator, the Mythbusters Grant Imahara along with Craig made one NPR blogger's list of wonderful things of 2010.  Grant tweeted:  Hey @GeoffTheRobot, we made the list at #4! RT @nprmonkeysee: 50 Wonderful Things From 2010. Geoff added:  NPR honored @CraigyFerg & @grantimahara at #4 on its 50 Best Things of 2010 list for creating a boby sidekick! He then corrected his typo:  That wouod be "bony" I am so excited I can't feel my buttons. Holy Guaca-bony! And he joked:  And no, I'm not blowing my own horn. My junk's still in customs. This is a bony high 5 to Mr. F and Grant! Geoff also commented on LA's rain:  All this LA rain and a leaky @CraigyFerg studio. Thank goodness @grantimahara waterproofed my nuts and coated my sockets. Oo la la Splash! //  This rain is relentless. Already balls floating in the @craigyferg studio. I should check the Christmas tree, too!
Dick Cavett was doing talk shows when Craig Ferguson was still growing up in Glasgow.  The folks at TVSquad chuckled at Cavett's story of Johnny Carson's failing memory… and his own.
New York Magazine's Vulture blog misidentifies the souvenir that had Kristin Davis a little squeamish.
A writer for the California Chronicle mentions Craig among some New Year's resolutions.  Ignore the final resolution, though… Betty rules.
Magician Jamy Ian Swiss' recent appearance on the Late Late Show is among TVSquad's top magic performances of 2010.
The San Francisco Chronicle reports on a new DVD release of Johnny Carson's Tonight Show and mentions Craig, not as a "young turk" like the Jimmy's but having "his share" of viewers.
One year ago, a blogger wrote a great piece about why he likes Craig.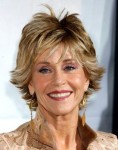 Craig talks with actress Jane Fonda on Tuesday's Late Late Show.  Then on Wednesday, it's actor Michael Clarke Duncan, along with the creator of Geoff Petersen, Mythbusters Grant Imahara, who tweeted:  I will be appearing on the @CraigyFerg show on Wed 12/22. Harmonicas and Dr. Who may be involved.
© 2010 – 2011, RSANews. All rights reserved.