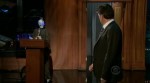 As we menti0ned in yesterday's post, Geoff Petersen will be on the red carpet for the new film Red.  He's asking RSA members to send in questions you'd like him to ask the film's stars, which he repeated today:  Any more of your questions I can ask RED stars tomorrow. Freeman, Willis, Malko, Borgnine, Dreyfuss… Bring em on, maybe I'll use yours. Just address your questions to @GeoffTheRobot.  Meanwhile, the voice of Geoff Petersen, Josh Robert Thompson, tweeted earlier today:  Prepping my robo-voice for another Geoff Peterson red carpet extravaganza! It may take a day or two to edit the video of Geoff's latest adventure, so look for the segment on the show mid-week.  We'll keep you posted.
Last fall, Craig spoke at length on National Public Radio's daytime show, Talk of the Nation.  He was interviewed about his autobiography, American on Purpose which had just been published.  You can listen to the full interview and a little further down the page, you can hear Craig read a excerpt from the book.
Don't forget, the Lollipop Theater Network's online auction continues through next Tuesday the 19th of October.  You can bid on backstage passes to meet Craig following his Carnegie Hall performances on October 23rd.
Our favorite emigrant doesn't get Columbus Day off on Monday, when Craig hosts the first of five all-new episodes of the Late Late Show with actor John Malkovich and comedian Henry Cho.  On Tuesday, country singer Trace Adkins performs and Craig talks with astronomer Derrick Pitts.  Then on Wednesday, watch for actress Minnie Driver and actor Diedrich Bader.  The Price is Right host Drew Carey visits on Thursday along with actress Jenny Wade.  And on Friday, Craig talks with Big Brother host Julie Chen and actor Ty Burrell, plus the music of country artist Billy Currington.  Enjoy the new shows this week.  There are no studio tapings scheduled for the week of Oct 18-22 while Craig is on tour, so expect a visit from the re-run fairy.  We'll post the full list next week but among the shows being repeated will be recent visits from Kristen Bell, Don Johnson, Philip Seymour Hoffman, Don Rickles and… you guessed it… the Big Bang Theory cast episode!
© 2010 – 2011, RSANews. All rights reserved.