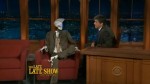 Craig tweeted some news on Thursday:  Geoff Peterson to appear on another TV show! It's like "A Star is Born." I'm Kris Kristofferson and he's Barbara Streisand. Josh Robert Thompson also dropped a hint:  At CBS, recording some @GeoffTheRobot dialogue for a top secret TV appearance! Stay tuned… Craig's recent "Follow Monday" recommendation @BadAstronomer hazarded a guess: Oh, tell me it's "Bones" and make all my dreams come true. #Humerus
CBS publicist Katie Barker added this on Thursday evening:  I am preparing my car 4 something that will make the #RSA very happy! More to come soon… And as for the @GeoffTheRobot's own Twitter account, he sent out his first tweet in more than two months, with a tantalizing tidbit:  I've left the studio and I'm so close to @ryanseacrest right now I can smell him. More to come… Oh my.
UPDATE:  It turns out the show Geoff will be appearing on is E!'s The Soup with Joel McHale, as Geoff tweeted late Thursday night:  Sorry @CraigyFerg there's a new man in my life. Geoff Peterson & @joelmchale, tomorrow [Friday] night, 10 p.m. on E! #balls Be sure to tune in to the E! channel at 10pm Eastern Time (and we're guessing 10pm on the west coast feed as well) to see Geoff on The Soup!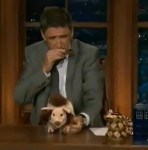 Flaubert, with what appeared to be more hair on his head and larger sideburns, made a surprise appearance during tweets and emails on Wednesday.  Maybe we'll get to see more of the bourgeois-eschewing swine in the future.  Say that five times fast.
The Mythbusters @GrantImahara had perhaps the best response to Craig's "ass tweet" Wednesday night (see our previous post):  Ha! I'm sure by tomorrow, there will be a dozen twitter accounts pretending to be your ass. Wait, that didn't sound right… The RSA's @KarlynMyJournal noticed that just moments after Craig's "ass tweet", the Dalai Lama announced he would be stepping down soon as Tibet's governmental leader.  If Craig's ass can tweet things so profound, we'll all have to step up our game.
TVSquad.com heard Trace Adkins warn Craig about mispronouncing Matthew McConaughey-hona-hon-hey's name.  And Movieline.com dug the new puppet on the show, "Big T".  The folks at Folkmanis Puppets tweeted:  In case you're wondering, the cowboy puppet that was on @CraigyFerg last night was not a Folkmanis Puppet. http://bit.ly/asMAbA Sid is : )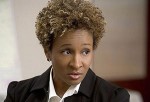 Thursday on the Late Late Show, Craig chats with actress/former talk show host/comedienne Wanda Sykes and actor Kevin McKidd.  Then on Friday, Craig welcomes actress Amanda Peet and comedian Phil Hanley.
© 2011, RSANews. All rights reserved.