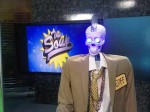 Craig reminded everyone the Geoff Petersen is on E!'s The Soup Friday night at 10pm ET:  Geoff Peterson to appear on the soup tonight. Part of my masterplan to make @joelmchale think he's fat. If you miss the first airing, the show runs again several times over the weekend and early next week.
@GeoffTheRobot tweeted:  "Robot Skeleton Army: check me out in a studio with PROPER lighting… Tonight 10 PM on @TheSoup !! #cbscares"  http://twitpic.com/48jekx He even tweeted the man who built him:  Hey @grantimahara check out your favorite robot on E! tonight. And after watching Ryan Seacrest, watch me on The Soup at 10 p.m. CBS publicist Katie Barker said:  Fun night at The Soup w the always hysterical @JoelMcHale & surprise guest… @Geofftherobot tune in tomorrow 10 pm E! And Josh Robert Thompson added:  I will be on "The Soup" as voice of @GeoffTheRobot tonight on E! #RSA
Craig's assistant Rebecca Tucker retweeted a sentiment that has been making its way around Twitter:  I think the best way to honor the victims of the earthquake/tsunami is by unfollowing @charliesheen, your turn America. #prayforjapan

To help those affected by the earthquake in Japan and the resulting tsunami around the Pacific Rim, you can make a donation to the Red Cross on their website or by texting REDCROSS to 90999 to make an instant $10 donation.
Among those affected by the Tsunami was ABC's late night talk show host Jimmy Kimmel who had been vacationing in French Polynesia.
Good news for viewers of the Late Late Show in central Oklahoma from the Oklahoman newspaper:  The CBS affiliate in Oklahoma City is dropping it reruns of Seinfeld and moving up the LLS to 11:35pm immediately after David Letterman starting March 21st.  A completely off-the-mark-blogger for the paper said he'd rather DVR episodes of the tired, overworked series that ended 13 years ago and stopped being funny before that, than watch the best late night show on television today.  Whoops… did we say that out loud?  We're hoping he actually watches the show and realizes what he's missing.
Nashville.com appreciated Trace Adkins position on fru-fru coffee.  And TVSquad.com reports on Wanda Sykes appearance on the show Thursday night.
Legendary comic book writer Stan Lee has been tweeting about Craig again but it sounds like he doesn't plan to start up any new battles against the Robot Skeleton Army.
It's hard not to like the tweet of Geoff's builder @GrantImahara:  [x]Single [ ]Taken [x]Creating robot army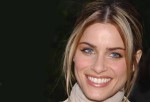 Friday on the Late Late Show, Craig welcomes actress Amanda Peet and comedian Phil Hanley.  There will be three more new episodes next week before the show heads into re-runs for the NCAA tournament.  Among the guests scheduled to visit the studio in the next few weeks are  Lewis Black, Martha Stewart, Seth Rogen, Bob Geldof, DL Hughley, Paul Giamatti, Helen Hunt, Tom Selleck, Dr. Sanjay Gupta and Steven Wright.  Check out our Guests page for the complete up-to-date list.
© 2011, RSANews. All rights reserved.