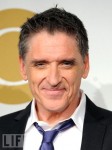 What a busy news day in the hollowed out volcano!  The biggest news of the day:  Craig Ferguson has been nominated for a Grammy Award in the Best Spoken Word Album category for the audio version of his autobiography, American On Purpose.  He tweeted his reaction:  I just got nominated for a damn Grammy. Take that low self esteem. #fuckyeah
And Craig's assistant Rebecca Tucker send a backstage photo: In the press room after grammy announcement http://twitpic.com/3c2tnl She also said: Could I have a cooler boss?! A grammy nomination! Hard to get cooler than that!  This is Craig's first Grammy nomination and the first major award announcement since he won the Peabody Award earlier this year for his interview with Archbishop Desmond Tutu.  Here is the list of nominees in the category:
American On Purpose – Craig Ferguson
The Bedwetter – Sarah Silverman
The Daily Show with Jon Stewart Presents The Earth (The Audiobook) – Jon Stewart (With Samantha Bee, Wyatt Cenac, Jason Jones, John Oliver & Sigourney Weaver)
A Funny Thing Happened on the Way to the Future… – Michael J. Fox
This Time Together:  Laughter and Reflection – Carol Burnett
The Woody Allen Collection:  Mere Anarchy, Side Effects, Without Feathers, Getting Even – Woody Allen
In his usual modest way, Craig told a writer for The Hollywood Reporter:  Craig Ferguson said I look smart – and that his chances of winning Grammy for spoken word are "zero" We think they're better than that, Craig.   Much better.
Billboard Magazine reports that Craig wouldn't callhis Grammy nod the highlight of his year because his wife is having a baby.  When told he was up against such greats as Carol Burnett and Woody Allen, he responded, "I'm the crappiest person on this thing."   The Grammy Awards will be presented at the Staples Center in Los Angeles on Sunday, February 13th and broadcast live on CBS.
Here is video of Craig announcing the nominees for Female Country Vocal Performance:
Video courtesy: thegrammys

And here is Craig with LL Cool J announcing the nominees for Record of the Year:
Video courtesy: thegrammys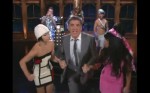 Meanwhile, another story roboskellies have been waiting for:  "The clip" has been leaked, as Craig tweeted Wednesday afternoon: http://tinyurl.com/2bos8gq oh no, the Dr. Who clip leaked! I'm furious! When I find out who did this… #leaktheclip
The clip was intended to open the Doctor Who-themed show featuring an interview with the current Doctor, Matt Smith.  But just moments before the episode was to be taped, Craig learned that the rights to use the show's theme music had not been secured.  The legal team must have been working overtime, because it appeared online today.  Enjoy!
Video courtesy: liltomato

Ken Tucker of Entertainment Weekly encouraged his readers to check out the clip.
TVSquad.com enjoyed Craig's sendoff to the show's retiring property master Joe "Props" Gubbins.
Television producer Hart Hanson (Bones) made a good point about Craig's handling of the Arthur situation: Oh, to have grace and a good sense of humour in the face of everything and anything. From now on: WhatWouldCraigDo? http://tiny.cc/n3xhn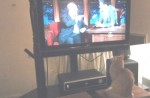 The RSA'[email protected]heldenb says Craig has a feline fan who enjoys the final segment of the show each night:  @CraigyFerg @RSA_News She can't wait to see the cat at the end of the show! http://yfrog.com/66j5k0j Meow!
If anyone happens to record the CBS holiday promotional announcement featuring Craig and Geoff Petersen wearing Santa hats and posts it online, we'd appreciate a link to share with the RSA. We think it'll probably be just as funny as Salman Rushdie doing the Secretariat dance. Speaking of Secretariat, there's no sign of the Hollywood Park segment yet. Maybe we'll see it this week?
The campaign where some celebrities won't tweet until a million dollars is raised for AIDS prevention and awareness on World AIDS Day didn't quite work as expected.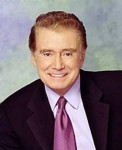 On Wednesday's Late Late Show, he's out of control! Regis Philbin joins Craig, along with comedienne Wendy Liebman. Comedian Greg Proops and actress/singer Nellie McKay will be rescheduled. Thursday, watch for comedian Cedric the Entertainer and singer Norah Jones.
A closer look at the taping schedule for the next several weeks shows no tapings at the show's CBS Television City studio from December 20-31. Shows are still being planned for the rest of the month and the crew has been quietly taping many more guests than are actually appearing… putting segments "in the can" for later broadcast. Will this mean at least some new episodes in the last two weeks of December? Perhaps, or they may all be re-runs. We'll keep an eye on the schedule and let you know about guests as they are confirmed.
Happy Hanukkah! If you visit our site eight days in a row, it would be a great gift.   But considering this week… a resolution of the French copycat issue, the leaking of the Doctor Who dance clip and a Grammy nomination?  That's plenty of gifts for us!
© 2010 – 2011, RSANews. All rights reserved.