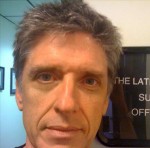 It's been a little quiet in the hollowed out volcano for a couple days as the Robot Skeleton Army recovers from a busy and exciting week.  Craig has wrapped up his stand up comedy tour and is kicking off a week of fresh, new episodes of the Late Late Show.
Here's a nicely edited-down version of some comments Craig made backstage last week after getting word of is Grammy nomination for the audiobook version of his autobiography.
Video courtesy: CBS

If you're looking for a fun roboskelly to follow, we highly recommend @SexyCraigFerg.  Along with some nice #nowplaying music, you'll find a steady, reliable stream of Craig-related tweets.  She is a must-read for us each day!
Geoff Petersen survived a rainy weekend in a leaky studio:  Survived the rain. Now I need to figure out how to warm my bones. Dong Dong!! // Typo? You decide!
The week's revised guest list has most of the same names we told you about yesterday but they shuffled the deck a little bit.  Here's the new plan:  Monday on the Late Late Show, Craig welcomes CBS Evening News anchor Katie Couric and comedian Al Madrigal.  On Tuesday, we're now expecting to see actress Carrie Fisher and author Dennis Lehane.
On Wednesday, watch for actor Russel Brand and journalist Richard Wolffe.  Then on Thursday, Craig welcomes actress Lucy Liu and 1997 Nobel Peace Prize winner Jody Williams.  Friday is the one day that stayed the same:  Craig's guests will be actor Neil Patrick Harris and musician Nellie McKay.
Larry Gatlin & the Gatlin Brothers have disappeared from the lineup and the taping schedule.  Wee'll let you know if or when they are rescheduled.
© 2010 – 2011, RSANews. All rights reserved.