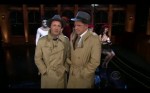 What a wild few days it has been for Craig Ferguson.  First, Craig welcomed his French doppelganger Authur to the Late Late Show, leading to a Casablanca-inspired ending for Monday's show.  Then, after two weeks of suspense, LLS and Whovians were rewarded with the leaking of "the clip" featuring a dance number inspired by the Doctor Who theme song.  And Wednesday night, the best news so far:  Craig was nominated for a Grammy Award in the Best Spoken Word Album category for the audiobook version of his autobiography, American On Purpose.  The hollowed out volcano has been buzzing about it, as well as media across the world.
Complete coverage: For a complete recap of Wednesday's events, check out our detailed post right here updated with still pictures, video clips and early reactions from the Grammy nominations show as well as "the clip".
In case you missed it, here is Craig's reaction to being told of his nomination:
Video courtesy: CBS

And here is Craig backstage, where his reaction was characteristically blunt and genuine:
Video courtesy: thegrammys

The RSA's @babarann noticed that on Audible.com's listings, Craig's audiobook has the most reviews and the highest rating of the six contenders.
The Wall Street Journal reports on the Doctor Who clip as does MTV.com.  In a short article, the Vancouver Sun declares Craig the most creative late night host.
Craig appears live Friday night at the Fantasy Springs Resort Casino in Indio, CA, his final live show of the year.  The website inlandsocal.com previews the show with six Craig facts we're pretty sure every RSA member knows.  Craig tweeted about the appearance:  Stand up show in @FantasySprings Ca. tomorrow [Friday] night. Sounds magical. I wonder if there will be leprechauns or a buffet. Dare I dream?
For Thursday's show, Craig tweeted:  My wacky neighbor @nerdist is dropping by the show tonight for email time. He wants no questions only lavish praise. #whatanass #thatspraise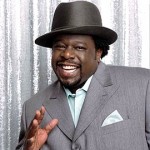 Thursday on the Late Late Show, Craig welcomes  comedian Cedric the Entertainer, the music of Norah Jones and a visit from @Nerdist, Chris Hardwick.  On Friday, Craig's guests are actress Kristen Bell and musician Michael Franti, rescheduled from Monday.  Actor Ewan McGregor and actress Shannon Woodward will be rescheduled at at later date.
© 2010 – 2011, RSANews. All rights reserved.