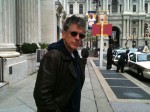 With the Halloween weekend upon us, Craig & company have a special opening for Friday's show.  This one is destined to become a classic, so set your DVR.
Warning – SPOILERS:  The folks at CBS tweeted a preview of the opening, which several media outlets have posted.  http://twitvid.com/BSKNA – It's a Halloween "Monster Mash" 2nite on Late Late Show w @CraigyFerg One preview comes from Entertainment Weekly's Ken Tucker and another from ScreenCravers.com.  LLS Producer Michael Naidus tweeted Friday:  Wanted everyone to know that Craig and Friends were working (in the lab) very late last night … results will be on-air tonight. Enjoy. And Geoff Peterson chimed in:  On tonight's show Mr. F has a hot number. In his pants! And on the dance floor. And I get to be a chorus ghoul. Hope I'm scary enuf. …boo?
When a viewer asked if guest Joe Theismann kept the money Craig handed him for signing a football, Joe responded with a clear and funny tweet:  @Theismann7 You were great and funny with Craig Ferguson. Did you really keep the money ?// No No and No!
TVSquad.com liked Sir Michael Caine's thoughts on Thursday night about the paparazzi.
The RSA's @SecretNakedHobo noticed that Late Late Show t-shirts from the CBS store are listed at 40% off.
As we reported earlier, Scottish Actor Gerard Kelly, who played Felix Unger to Craig Ferguson's Oscar Madison in a touring production of The Odd Couple in 1994 has died at age 51 of a brain aneurysm. according to the Herald Scotland. Kelly was noted for roles in many comedies on the stage and television, including City Lights and Scotch and Wry. He had played the role of the narrator in a production of the Rocky Horror Show over the summer and was due to reprise the role next month in Glasgow.
Scottish television has posted a story as well, along with The Independent and the BBC.   Additional coverage through the day came from Scotsman.com, a BBC blog, The Daily Record, and STV.   We extend our sympathies to Craig and to Gerard's family, friends and colleagues. Craig said: Shocked by the news of Gerard Kelly. A brilliant actor and a wonderful kind soul. My condolences to his family & friends. A terrible loss.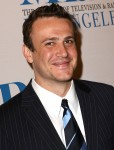 On Friday's Late Late Show, Craig welcomes actor/ screenwriter/musician Jason Segal, actress Alison Brie and Australian comedian Adam Hills.  Next week's guest list seems to be a bit fluid; our usual sources all have slightly different schedules.  We'll try to get it nailed down and bring you the full list on Monday.
© 2010 – 2011, RSANews. All rights reserved.