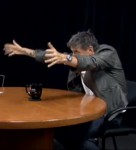 Like much of the west coast, the heat has been sweltering lately.  Craig's assistant Rebecca Tucker has a little help, thanks to Craig:  Best gift my boss ever gave me? A dyson less fan for those 113 degree days http://twitpic.com/2stc3y She quickly amended the typo in her tweet:  that would be a Dyson BLADEless fan… That would definitely be a very cool thing on a hot day.  Meanwhile, LLS assistant producer Andrea Wayland was in the same boat:  Coming to you live, it's the 90's at nine. Result: I gave my cat a nice cooling bath when I got home. http://twitpic.com/2spcvn She added:  3 fans on, doors open, windows open, ice packs rotating, pillow in freezer. You all better pray I sleep tonight. Me + no sleep = trouble. We hope you sleep well, Andrea.
Leave it to New York Magazine to have a little fun with Craig and Sela Ward's musings about her old cheerleading uniform, as well as other interesting late night tidbits from Monday's shows.
Thanks to several roboskellies for letting us know about this:  BBC Radio Scotland has an old except of @lynnfergy http://ht.ly/2KFz7 discussing funny women, available for the next 4 days. Note:  The clip will remain posted for just three more days.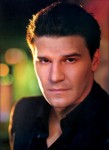 Tonight on the Late Late Show, will Craig or Geoff have a bone to pick with Bones actor Actor David Boreanaz?  Plus Craig chats with actress Melissa McCarthy.  On Wednesday, comedian Steven Wright returns to the show, along with author Sloane Crosley and country singer Blake Shelton.
© 2010 – 2011, RSANews. All rights reserved.